Liverpool host Manchester United as Van Gaal prepares for Klopp clash
Liverpool vs. Manchester United remains one of the biggest fixtures in English football, despite each clubs' difficulties this season. Steven Kelly and Scott Patterson face off to preview Sunday's clash at Anfield.
Who has had a worse season?
Steven Kelly: As an outsider you can smirk at United fans screaming for more attractive football, while at the same time begging for Jose Mourinho to replace Louis van Gaal. Then you look at Liverpool's position and squad and the laughter is reduced dramatically. It'll stop completely if Mourinho goes there.
Liverpool have made their change with Jurgen Klopp and entered that twilight zone called transition, where only improvement is asked for and the manager can't be expected to put things right overnight. It means grasping whatever's good and maybe inflating it beyond its actual worth.
It looks poor when Klopp charges around the pitch after a late equaliser at Anfield but beggars can't be choosers and any chance to give Liverpool's season some momentum has to be taken.
Scott Patterson: Even if Liverpool win on Sunday, United will be above them in the table but will remain more disappointed with how the season has gone. Not getting past the Champions League group and playing boring football all season means United edge it.
Liverpool were four points behind United when Brendan Rodgers got sacked and now they're three points behind, even with a dreadful run of results during the past couple of months. At least they have enjoyed some good wins under Klopp -- Van Gaal's only good day has been the 3-1 win against Liverpool at Old Trafford in September.
Who's to blame for the current situation?
SK: It sometimes feels like Liverpool's business model is merely to convince fans they're serious about achieving success by spending lots of money on players. Whether those players are ever good enough seems almost beside the point.
That said, Dejan Lovren has been a little better and, in light of Roberto Firmino's exploits in Wednesday's 3-3 draw against Arsenal, he may also have been written off too quickly.
The arc of Liverpool's decline can be noted by writing down every major transfer since 2008 and then seeing how many you can put a tick by and mark a success. The success/failure ratio can then be fully appreciated and, if that were to continue, it won't matter how good Klopp is, Liverpool will remain also-rans.
SP: Everything that goes wrong at United lies at the feet of the owners and executive vice chairman Ed Woodward. Years of underinvestment and poor decisions have meant United are a mile away from where they should be at the moment, even with the huge loss of Sir Alex Ferguson.
Van Gaal still deserves some of the blame for sticking with his tactics that produce dire football and the players shouldn't be let off the hook either. They haven't performed well enough and don't put away the chances they create. Tuesday's 3-3 draw with Newcastle, where Jesse Lingard, Wayne Rooney and Marouane Fellaini all failed to score when presented with opportunities that Van Gaal, 64, could have probably scored, is evidence to that.
How important is Sunday's match in the context of your campaign?
SK: A victory would re-emphasise Klopp's tendency to do well in games he's not really supposed to do well in. Defeat would merely be put down to United's hold on Liverpool in head-to-heads.
Liverpool lost this fixture 2-1 last season and their Champions League hopes were scuppered. Steven Gerrard was humiliated in front of the enemy by getting sent off in 60 seconds and Martin Skrtel banned for stamping on David De Gea. A bad day at the office? In Liverpool-United terms, it never even broke the top 10.
It's looking more and more like a cup season anyway, but the fixture has always stirred volatile emotions whatever the state of the two clubs. You have to go back a long, long time since neither side was one of the dominant forces in English football, but there will always be a sense that revival won't be long in coming.
SP: In a season this unpredictable and changeable, a win for either team guarantees very little. Both sides are capable of getting a result on Sunday and then losing their next game. But for the confidence of the players and fans, it's a big one.
Most United supporters have turned on Van Gaal already but a defeat at Anfield, particularly an embarrassing one, would be the final nail in his coffin. A win would buy him more time.
Who will finish higher?
SP: I think United will, but I wouldn't be surprised if both teams finished outside of the top four.
SK: That seems about right. You have to go with the club that's finished higher in all bar one of the last dozen seasons, just through habit. If United were to make their much-rumoured managerial change soon, it becomes even less of a debate.
Where will the game be won and lost?
SK: Rooney seems to be doing a bit better but I'd expect the much-maligned Fellaini to be throwing himself about with ruthless abandon.
The thought of any set piece triggers a collective shudder throughout the ground. Even Arsenal, hardly a brawny side, scored from a corner against Liverpool.
That said, the Reds were impressive for long stretches of that Arsenal game and if there's enough left in the tank, they can get into United from the start. If they can also get a goal to reward all that early work rate it might make the inevitably sluggish second half far more interesting.
SP: United and Liverpool both drew 3-3 in the week and both showed how dangerous their attack could be, but also how calamitous their defence is too. Liverpool will be the happier with their draw against Arsenal as they were the ones to grab a late equaliser, rather than concede one, and they were obviously playing against much tougher opposition than United were.
No doubt Van Gaal's men will go in to the game with the intention to defend, attempting to stifle any entertainment from the game. The 2-1 win at Anfield last season was one of the best performances we've seen under Van Gaal, but it's hard to imagine a repeat of that. We also don't have the benefit of Gerrard coming on for a minute, only to be sent off.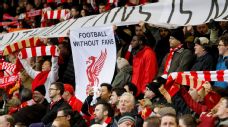 Prediction
SK: Liverpool 0-0 Manchester United. For all the anticipation that will have arisen from the midweek 3-3 games, the tension may become a little too much. Nobody wants to lose this.
SP: Liverpool 1-1 Manchester United. Van Gaal's men to dominate possession, bore us to death, maybe get a penalty and then gift Liverpool a goal.