Manchester United and resurgent Wayne Rooney get ready for Liverpool
ESPN FC contributor Nick Miller poses five crucial questions ahead of the Premier League match of the weekend between Liverpool and Manchester United.
1. Which Manchester United will turn up?
Watching Manchester United has been a tedious business for the majority of this season, as Louis van Gaal's obsessive desire for control has sucked the life out of games like one of those vacuum-packed bags that store winter clothes during the warmer months. And yet, against Newcastle on Tuesday they showed some life, some vim, some positive intent, and scored three goals with a few moments of fine attacking play.
There have been other moments like this during the current campaign, though, when we thought Van Gaal might be about to remove the shackles from his players and let them run free, only for them to revert to their old lateral passing ways in the next game. It would be quite a surprise to see a freewheelin' version of United show up on Sunday, as Van Gaal's instincts will be to temper the already chaotic nature of Liverpool-Manchester United games with some of his famous control, but it would be a rather nice change if he didn't.

Liverpool

Manchester United
Game Details
2. Is Wayne Rooney back?
The Manchester United captain is clearly a touchy subject for Van Gaal, so much so that he was moved to point out the corpulence of a journalist who had supposedly written ill of his No. 10 after the Newcastle game. That game saw Rooney's most convincing performance in months, scoring two goals -- one of them came from a moment of controlled violence imparted on the ball that recalled the Rooney of years ago -- and beautifully setting up Jesse Lingard for United's other goal. There were still moments of uncertainty and inconsistency in Rooney's performance, but if you score a brace and lay on another, most people will live with a few misplaced passes in the rest of the game.
The question now is whether that performance represents the start of something more substantial for Rooney, or if it was simply a one-off, a bright speck of light in a season of interminable gloom. Whether Rooney is "back" does of course depend on how you define "back." He'll never be the thrilling dynamo of his youth, but he could well return to be a very good (and possibly better) striker for the remainder of this season, and indeed his career. Van Gaal might not have been necessarily right to stick with Rooney throughout the depths of his form earlier this season, but at least his faith might be rewarded with something better now.
3. Who will Liverpool play up front?
There's certainly a sense that Liverpool's inconsistency under Jurgen Klopp has a little less to do with the manager himself and more to do with him not quite having the players he would like to implement in his system. Not that his system is particularly set in stone, of course -- against Arsenal on Wednesday, he opted for the old "throw a centre-back on up front and stick it in the mixer" approach at the end, which, in fairness, worked.
He probably won't start with Steven Caulker up top for this one, but you wonder if he might go for a slightly more conventional big man in Christian Benteke. Roberto Firmino has played pretty well when asked to take a central attacking role and grabbed a brace against Arsenal. But Klopp might ponder that the United defence looked a little shaky against Newcastle last time out, and might look to take advantage of Daley Blind's relative lack of aerial prowess. Benteke's role has been peripheral so far under the German, but this might be his time to shine. The Belgian has scored in three straight Premier League games against Manchester United (two with Aston Villa and one with Liverpool).
4. Will Liverpool's big-game mentality shine through?
While Liverpool haven't shown the sort of consistency that they or their manager would like since he arrived on Merseyside in October, it's tough to fault their record in big games. They beat Chelsea 3-1 a couple of weeks after Klopp's appointment, then a little while after that blitzed a stunned Manchester City at the Etihad. They also beat then-league leaders Leicester on Boxing Day, and gave Arsenal -- which had taken over at the top of the table -- quite a game this week, whereas their disappointing results have come against the slightly lesser lights of the division.
Klopp's four defeats have come at the hands of Crystal Palace, West Ham, Watford and Newcastle. The first three have had good seasons and it's nothing like a disgrace not to beat them, but Newcastle were at a low point and had just been thrashed 5-1 by Palace when Liverpool were defeated by them in early December. Does this mean that Klopp's style, or current version of his style, is better suited to big games? If so, it's good news for the home crowd.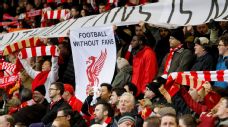 5. Will Marouane Fellaini have a role to play?
Not exactly the most popular man at Old Trafford these days, Fellaini nonetheless has his uses. Subtlety is not his forte, but few would want him to be delicate -- that would be a little like booking Prince and handing him a tambourine. In this game, Fellaini could certainly be a handy character to have around to cause a little havoc in the opposition defence, or indeed midfield.
Against Newcastle, Fellaini was deployed in a more defensive role alongside Morgan Schneiderlin and behind Ander Herrera, which was one of many reasons United conceded three goals for only the second time this season (whatever faults United have, they've been largely tight at the back). At Anfield he might be better deployed in a more advanced role.
Liverpool are still iffy at the back at the best of times, their defence a chaotic whirl of roughly-thrown-together players who may or may not be good enough, and they're particularly susceptible from set-pieces. Arsenal's second goal on Wednesday was blamed on Simon Mignolet, but while the Belgian keeper didn't exactly cover himself in glory, the more pertinent question was how the ball was allowed to reach him in the first place. Throw Fellaini in there, even if it's to induce a little more anxiety and allow someone else some space, and the chaos could double.
Nick Miller is a writer for ESPN FC, covering Premier League and European football. Follow him on Twitter @NickMiller79.