Liverpool are starting to look like a Jurgen Klopp team
It was an incredible night of football. Two ambitious, attacking football teams swinging wildly at each other under the lights in that strange, non-settling wet snow for which the English have unforgivingly failed to designate a name. Anfield in recent years has not always generated the atmosphere that made it famous, but the rafters of the old stadium shook on Wednesday night, which might explain why so much water was pouring through holes in the roof by the end. For Arsenal, this was in many ways a fine performance, though a missed opportunity to issue a statement of intent. But what was it for Liverpool?
In real terms, Joe Allen's late equaliser meant very little. With only 31 points on the board and little evidence to suggest that extraordinary and sustained improvement is imminent, they are merely one of nine clubs to now be within nine points of fourth place. Their hopes of success lie in the cup competitions. But behind the numbers, perhaps something has shifted. This was, after all, the first time at Anfield that Liverpool have looked like a Jurgen Klopp team. They were, not for the entirety of the game, but for long sections, ferocious and potent.
This was always a far bigger job than the club's more optimistic supporters thought. This aggressive, draining style of play was always going to take time to inculcate. Klopp is an excellent, proven manager, but he is inheriting a squad that has what might diplomatically be called, varying levels of ability. Previous manager Brendan Rodgers took them to within a hair of the 2013-14 title, but that was with Luis Suarez, Steven Gerrard, Raheem Sterling and Daniel Sturridge.
Three-quarters of those players have departed and the fourth, Sturridge, has been up on bricks for so long that there is talk of Liverpool cutting their losses and allowing him to leave, possibly to the glue factory. There isn't that much left behind that could currently be called world class by anyone with a straight face. But Klopp can change that. There are few at Anfield who believe that he won't change that. But it will take time.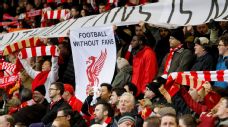 Klopp said before kick-off that, "You don't solve your goalscoring problems by playing against Arsenal." Au contraire. Liverpool's miserable tally of 22 goals was their lowest at that stage of the season ever. In the nine games in all competitions since the 6-1 Capital One Cup victory over Southampton, Liverpool had scored just seven goals, two of which were against Exeter. The picture looks a little brighter now.
Even so, the work has only just begun. But if you look beyond the results, you can see that the players are slowly catching up. They're beginning to understand what they need to do. In the meantime, Klopp can assess whether or not they're capable of doing it. You suspect that a number of them will be found wanting, though curiously not goalkeeper Simon Mignolet, who has reportedly been offered a five-year contract in spite of mixed performances in the last 18 months.
Christian Benteke certainly seems to be a high risk candidate, in spite of the extraordinary leap that created Allen's dramatic equaliser. If the Belgian striker was in any doubt as to his status at Liverpool, it was clarified here. Eleven changes were made to the mix and match reserve team that drew with Exeter last Friday. Benteke was among them. He is, at present, a £30m reserve and he will stay that way unless he demonstrates the sort of mobility, touch and guile that Klopp demands from his striker. There are compilations of Robert Lewandowski on YouTube. Benteke would do well to watch and learn.
Jordan Ibe may want to do some extra homework as well. Liverpool need brave players, attacking players who take on their man, but there has to be a balance. Ibe held on to the ball too long on too many occasions against Arsenal, but his shortcomings can be more easily accepted as evidence of inexperience. He has enough potential to trust in his development.
Liverpool's real problems lie at the back. Once again, they conceded a goal from a corner driven at the near post. Again, and this is why the faith in Mignolet is so curious, they look vulnerable to high balls.
Klopp was keen to defend his goalkeeper afterwards, blaming the other players for not providing protection, but Mignolet's occasional timidity is not a new development. One of the major reasons for Arsenal's improvement this season is the addition of a genuinely world class goalkeeper in Petr Cech. But even with someone like Cech, Liverpool would struggle to keep clean sheets when they leave so much space behind them with their pressing. But this is to be expected.
We forget sometimes how long it takes to build a team, how much work has go into training sessions to master new strategy, how the players need time to familiarise themselves with each other to reach their potential, as individuals and as a group. There is a certain amount of luck as well; the fortune of having players catch fire at the same time. Liverpool are probably not going to return to the Champions League this season, but that was always unlikely. This is a long term project.
There is real affection for Klopp at Anfield. Arsene Wenger's first half signal for Klopp to calm down, delivered in good humour, was met with knowing laughter from the Liverpool fans. They are aware of what they've got here. They know what their manager is like. Far from being the normal one, as he has been so ludicrously labelled, he's absolutely crackers. He's a great big pile of teeth and noise in a baseball cap. And they love him for it. He doesn't pretend to be something that he's not. He doesn't feel that he has to emulate Bill Shankly with cheesy soundbites. He's arrived in Liverpool, he's burst through the door, he's high-fived the room, he's put some AC/DC on and then he's run off to hug someone. But he knows what he wants, he knows how to get it and if you look closely, you can see it starting to emerge.
Iain Macintosh covers the Premier League and Champions League for ESPN FC. Follow him on Twitter @IainMacintosh.