Klopp vs. Van Gaal a clash of cultures as Liverpool and Man United meet
The differences will be apparent in the dugouts. Liverpool and Manchester United are historic rivals who have had much in common for most of this season, from a struggle to score to a dissatisfaction when they look at the league table. Yet a glance at the respective technical areas Sunday should offer an insight into their contrasting philosophies.
Jurgen Klopp is perhaps the Premier League's most animated manager, Louis van Gaal arguably its least.
The Dutchman rarely rises to his feet. Indeed, it was hard to say which was more remarkable: his side drawing 3-3 in a thriller at Newcastle on Tuesday, or the sight of Van Gaal issuing orders at the edge of his technical area. He prefers to sit still, studiously making notes.
The German is a beanpole of energy, contorting his tall figure into a range of shapes in celebration or frustration. He has a face that betrays a thousand feelings. He has, barely three months into his reign at Anfield, already had touchline rows with Tony Pulis and Sam Allardyce. Fourth officials are all too aware of his presence.
Klopp likes to live in the moment. Van Gaal talks of a seemingly never-ending process, a methodical journey with a destination that appears ever harder to define. Klopp believes football is emotional. Van Gaal's is passionless too often.
Klopp can be offended by a lack of emotion and excitement. "We were passive against West Ham and that isn't good in life or in football," said the German after this month's 2-0 defeat in London. Van Gaal's preferred passing is passive. A couple of hours after Liverpool were beaten at Upton Park, his side defeated Swansea. While others savoured Wayne Rooney's delightful winner, Van Gaal declared he preferred a first half in which it is scarcely an exaggeration to say nothing happened -- United's first shot on target came in the 33rd minute -- because Swansea had no chances.
The 64-year-old savoured the sense of control. Klopp is more of an anarchist: not in his own tactics, but in the approach he adopts to the opposition, aiming to disorientate them and disrupt their game plan with high-speed pressing and incessant energy. "Very fast, very strong, not boring, no chess," Klopp said in an explanation of his blueprint. Van Gaal talks of trying to "disorganise the organisation," but it is a methodical, chess-like process, a gradual attempt to drag someone out of position.
It explains why United, who have not scored a first-half goal at Old Trafford since September, are such slow starters. Klopp prefers to begin with a bang. His Borussia Dortmund teams used to blow away opponents. The defining performance of his time in England came against Manchester City, when Liverpool scored three times in the first 33 minutes.
He has likened his brand of football to heavy metal. Van Gaal's shows the worst excesses of prog rock, aiming for technical perfection without actually going anywhere. His team have had the most possession in the Premier League. Klopp wants his to do the most running. They are at opposite ends of the spectrum.
Long before former Bayern Munich and Dortmund managers were pitted against each other in England, Klopp was, albeit unwittingly, presenting himself as the antidote to Van Gaal. The younger man believes in getting the ball forward, even at the risk of losing it. The older man would rather send it sideways and keep it.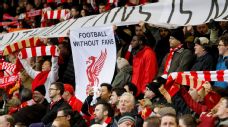 Klopp is in the vanguard of the pressing rebellion against perpetual possession. Van Gaal, who coached Pep Guardiola at Barcelona in the 1990s and who exerted an influence on Xavi and Andres Iniesta, could claim to be one of the founding fathers of tiki-taka. It is not to Klopp's taste. "I don't like winning with 80 percent [possession]," he said in 2013. "Sorry, that is not enough for me. That's not my sport. Fighting football, not serenity football, that is what I like. What we call in German 'English': rainy day, heavy pitch, 5-5, everybody is dirty in the face."
It is impossible to imagine Van Gaal, who cut a frustrated figure after this week's 3-3 draw, producing such words. They were spoken before Klopp's arrival at Anfield. They indicated why he seemed a natural fit for the British game. Klopp is an Anglophile whose tactics -- a back four, a high-energy approach, a fondness for a 4-4-1-1 system -- made him more English than the English.
While mentions of Total Football are inevitable whenever a Dutchman is imported, especially one schooled at Ajax, and while Van Gaal demonstrates his compatriots' belief that players can be used in a variety of positions, no matter how improbable, he seems more and more stereotypically Italian, and not merely in focus on tactics. One who used to have a reputation for attacking now appears to conform to the Italian journalist and theorist Gianni Brera's notion that the perfect game ends 0-0, because no one has made any mistakes.
That, coupled with United's predilection for sterile domination, helps explain some of the animosity that appears to bemuse Van Gaal. His is a very un-English brand of football. Klopp realises the British game has tended to be fast, furious and flawed. He relishes that. The sense, from the moment that he came to Anfield, is that Klopp gets Liverpool, their history and their identity. The feeling, which is ever more entrenched, is that Van Gaal, who has constructed a team entirely out of keeping with their traditions, does not understand United, English football or, some would say, other people.
Klopp is a terrific communicator, an engaging, outgoing and eloquent motivator. He had not been at Liverpool for long when he started using players' nicknames, whereas a year and a half into his reign at Old Trafford, Van Gaal is prone to referring to his premier centre-back as "Mike Smalling". Where Klopp has been quick to emphasise his footballing beliefs, Van Gaal has yet to explain his infamous philosophy in a way most comprehend.
If the Dutchman is tarnished by events of the past 18 months, Klopp's newness keeps him from being so. These two clubs have paid out more than £450 million in transfer fees in the past two summers, but the German is not responsible for any of that outlay. Defeats -- and Liverpool were wretched against West Ham, Watford and Newcastle -- reflect upon his inheritance, upon the players and the transfer committee.
Van Gaal, in contrast, has reached the stage where he is seen as problem, not solution. He has seemed a man out of time and place all too often in recent months. The contrast with the younger, more vibrant, dynamic and attacking Klopp is stark.
But while Van Gaal has done too little else to endear him to the United public, he does have one crowd-pleasing feature on his CV: a 100 percent record as their manager against Liverpool, with three wins from three. Should he secure a fourth Sunday, then the anguish would be all too apparent on Klopp's face while Van Gaal, presumably, would be logging details in his notebook, impassive as the action goes on around him.
Richard Jolly covers the Premier League and Champions League for ESPN FC. Twitter: @RichJolly.