Jurgen Klopp vs. Arsene Wenger the highlight of the Premier League week
Although they have been known to spurn the traditional handshake with certain fellow managers whose idea of aesthetic perfection is to hoof the ball long and kick lumps out of their opponents, Arsene Wenger and Jurgen Klopp will no doubt engage in a warm bro-hug when they meet for the first time in English soccer at Anfield on Wednesday. League-leading Arsenal (oh, how I love the sound of those three words) will be favored against Liverpool, but it is the German and Frenchman's brewing love affair that figures to be the highlight of fixture-congestion week.
It's the hipster versus the professor, the evangelist of gegenpressing up against the apostle of tiki-taka, the passionate dervish dueling the cerebral technocrat. They share the ability to transform the sport into their own image and a history of losing most of their important games to Bayern Munich.
Wenger started a wholesale revolution in the way players eat, drink, sleep and play when he arrived at Arsenal. His first act was to ban Mars bars, although rumor has it that he drew the line at abolishing croissants. Klopp established a blueprint for young players who were willing to make high-intensity runs in the opponent's half of the field so as to win the ball back as quickly as possible, and pretzels were both permitted and embraced.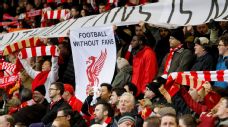 Unlike his German counterpart, Wenger had the luxury of coming to England as a virtual unknown. "Arsene Who?" the London Evening Standard famously asked when the Frenchman replaced Bruce Rioch (Bruce What?) in 1996. He had come from the giddy heights of winning the Emperor's Cup with then-Nagoya Grampus Eight in the Japanese J-League, and there was understandably deep skepticism when he was named manager ahead of such celebrated names as Johan Cruyff and Glenn Hoddle.
Klopp, of course, arrived with a tad more fanfare. The Anfield faithful, starved of Premier League glory since the Paleolithic era, could be forgiven for thinking the German would win the league, the Champions League and the World Cup; end the threat of global warming; and teach every child to floss perfectly. No pressure, Jurgen, although with teeth like yours ...
But outside of taking an instant dislike to West Brom manager Tony Pulis and Sunderland's Sam Allardyce, Klopp has not come to grips with English soccer quite as quickly as the Kop might have hoped. He wasn't fully prepared for a league that has no winter break, a merciless fixture pileup and a Cup format where ties don't go to extra time or penalties but result in a replay. And now he finds himself about to play what feels like a season-defining league game only five days after Liverpool were lucky to draw League Two squad Exeter City in the third round of the FA Cup.
Jurgen, please step up and claim your prize: a replay to add to your winter-schedule woes. Normally this wouldn't be such a cause for Sturm und Drang except given their already insane three-games-in-eight-days matchday heap, the only opening for that replay is between 1 and 3 a.m. on Saturday, hours Klopp usually reserves for listening to the best of Genesis.
Still, it's not all bad. Despite what has been a frustratingly inconsistent start to the Klopp era, Liverpool find themselves only two home wins from being firmly in the hunt for a Champions League place. Those six points, however, will be hard-earned because Arsenal's visit to Anfield is followed by the annual hatefest with Manchester United this weekend.
Whether the Kloppster will have enough able-bodied players to get him through the next five days or be forced to pull Steven Gerrard out of the stands and stick him in the heart of midfield remains to be seen; the Reds' injury crisis has reached mid-millennial Arsenal proportions. With 12 players sidelined against Exeter City, Klopp was forced to field an experimental lineup that could be summed up as "Christian Benteke, one godawful experienced defender and nine children."
Having endured his own injury epidemic this season with Santi Cazorla, Francis Coquelin and Alexis Sanchez still on the shelf, Wenger is sympathetic to the German's plight, but he doesn't buy Klopp's gripe that Liverpool's problems stem from too many blood and thunder matches in too short a period. "I don't think you can explain the injuries of the players by the intensity of the games," Wenger said.
Others yet feel that Klopp's high-energy tactics put an exhausting workload on all but the team's defenders. Although it was so instrumental in Dortmund's winning back-to-back Bundesliga titles, it may not be ideally suited to the detritus he inherited from former Liverpool manager Brendan Rodgers. Klopp likes his players to harry and chase in numbers, and the dozen or so additional explosive runs they now make every game can take a toll on their hamstrings.
Klopp eloquently summed up his difference between his and Wenger's approach after Dortmund eliminated the Gunners from the 2013 Champions League in the Round of Arsenal. "Wenger likes having the ball, playing football, passing," he said. "It's like an orchestra, but it's a silent song. And I like heavy metal more. I always want it loud! I want to have this: BOOM!"
Then he paused, allowing his trademark Cheshire cat grin to creep over his bewhiskered face. "When I watch Arsenal in the last 10 years, it is near perfect football," he said, "but we all know they didn't win a title."
Don't worry, Kloppo. Should Arsenal continue their rampant form, we will save a seat on the open-top bus for you. Boom!
David Hirshey is an ESPN FC columnist. He has been covering soccer for more than 30 years and written about it for The New York Times and Deadspin.