Liverpool face Arsenal at Anfield as Wenger seeks win over Klopp
Liverpool face Arsenal on Wednesday night with Jurgen Klopp's men seeking a morale-boosting win to give their top-four hopes a jolt in the right direction. For Arsenal, victory at Anfield would underline their title charge.
Dave Usher (Liverpool) and James McNicholas look ahead to the match:
Sum up your form going into this one
David Usher: Not good. Since the breathtaking 6-1 win at Southampton in the Capital One Cup, it's all been laboured. For the most part, the defence has performed adequately enough (the 3-0 loss at Watford and 2-0 reverse at West Ham apart) but the lack of firepower is undermining most of the good work taking place behind them.
Liverpool need to keep a clean sheet to have any chance of winning at the moment, as they are finding goals really hard to come by. They have scored just 22 goals in 20 Premier League games -- the lowest total at this stage of the season in the entire history of the club -- and with Philippe Coutinho and Jordon Ibe now added to an injury list that already included Daniel Sturridge, Danny Ings and Divock Origi, it's hard to see where the goals are going to come from.
James McNicholas: Arsenal appear to have navigated their way through the Christmas period in decent shape. Three consecutive wins was exactly what was required after the humbling 4-0 defeat against Southampton on Dec. 26. Crucially, Arsene Wenger was able to rest key players for the 3-1 FA Cup win over Sunderland, meaning the likes of Nacho Monreal, Mesut Ozil and Per Mertesacker should have an extra spring in their steps for the trip to Anfield.
Key Battle
DU: It's difficult to name individuals for this as it depends who Liverpool have available, but the key will be how the central defenders (whoever they may be) cope with the threat of Olivier Giroud. Klopp has his first choice full-backs available and will also be able to call on the diligence of James Milner in midfield. The Reds can match up well with Arsenal's array of talented attacking midfield players, but if Mamadou Sakho is not fit to return, then Giroud against Lucas and Kolo Toure could be quite the mismatch.
JM: Arsenal's key player at the moment is undoubtedly Ozil, so this fixture could well be decided by how effectively Liverpool close him down in the gap between their midfield and defence. If he's not called upon to play in defence, the man charged with shutting off supply to the German is likely to be Lucas. When Arsenal lost 4-0 at Southampton, Victor Wanyama was able to bully Ozil out of the game. Klopp will hope that Lucas is able to emulate that sort of performance on Wednesday night. If Ozil is allowed time and space on the ball, he will punish Liverpool.
Would you swap managers?
DU: Of course not! That's no disrespect to Wenger, who has been one of the best managers in the history of English football and deserves huge respect for all he has achieved. However, Klopp is just about the only good thing Liverpool have going for them right now, and many Liverpool fans feel lucky they have him because he's the sole cause for any optimism at the moment. There is no better man to try and get the Reds back where they want to be and in some respects, this almost feels like a last throw of the dice. If Klopp can't do it, will anybody be able to?
JM: Wenger isn't doing much wrong at Arsenal. The Gunners are FA Cup holders, top of the Premier League and have a glamorous Champions League tie against Barcelona to look forward to. Nevertheless, when Klopp was appointed as Liverpool manager, there was definitely a pang of envy felt in north London. At some point Arsenal have to face up to the prospect of replacing Wenger, and Klopp seemed like a good fit. With Wenger's reign surely approaching a close, it'd be tempting to switch for a younger man, despite the club's current strong position. The reality is that Arsenal have now missed the boat on the garrulous German, and will have to identify another potential successor.
What will this match tell you about your season?
DU: Very little. Liverpool's injury crisis has changed the landscape on this completely. A few weeks ago it looked like it could have been a huge game for both sides, as there wasn't much of a gap between them, but the Reds' stuttering form and growing casualty list means Arsenal will rightly go into this as favourites. The Liverpool team that takes to the field on Wednesday will be so far from full strength that it would be pointless to read anything into this, regardless of whether the outcome is positive or negative.
Additionally, Liverpool tend to look much better against footballing teams because Klopp's high-pressing game can give them all manner of problems. The Reds' best performances have come against sides who like to play attacking football and play out from the back. Spurs, Manchester City, Southampton and to a lesser extent Chelsea (few would describe them as "attacking" but they do play out from defence) have all had problems with Liverpool's high press, whereas the likes of West Ham, Crystal Palace and Watford have just knocked it long and bypassed it.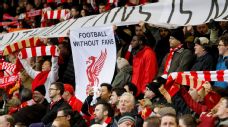 JM: A victory at Anfield would feel significant for Arsenal as they commence a run of three games that will be a real litmus test of their title aspirations. After Liverpool, they travel to Stoke City before hosting Chelsea. This is a period that will dramatically influence perceptions about Arsenal's credibility as potential champions.
It's also a real test of squad depth. Arsenal will be without several key players in the shape of Santi Cazorla, Francis Coquelin and Alexis Sanchez. Understudies like Mathieu Flamini and Joel Campbell have over-performed of late, but this will provide a truer indication of their value.
Much has been made of Liverpool's success against the Premier League's top sides, but Arsenal can look back on wins against Leicester City and both Manchester clubs already this season. A win over Liverpool would, despite their recent poor form, feel like a major milestone on the way towards the title.
Prediction
DU: Given how Klopp's tactics seem to work better against teams that want to play football rather than sit deep and counter, even a well below strength Liverpool are capable of giving Arsenal a tough game. A gutsy 1-1 draw for me.
JM: Liverpool's ability to obtain results against the bigger teams makes me think they can get something here. I'm going to follow David's lead and plump for a draw -- perhaps a 2-2.