Jurgen Klopp learning how hard being Liverpool manager can be
Jurgen Klopp never promised it would be easy. "Does anyone in this room think that I can do wonders?" he asked a room of reporters during his unveiling as Liverpool manager on Oct. 9. "I'm a normal guy from the Black Forest."
The three months since have provided confirmation that normality is rarely a commodity at Liverpool Football Club. Thus far, he has been unable to arrest the cycle of boom and bust, the oscillation from glory to embarrassment that has characterised the institution since its last English league title in 1990. Klopp has won 10 of his 19 games in charge.
Those who observed him at close quarters in Germany, where he spent seven years each at Mainz and then double Bundesliga champions Borussia Dortmund since retiring as a player in 2001, would suggest his impatience with the media might betray a dissatisfaction with how matters are progressing at Liverpool.
Sitting in eighth place in the Premier League, his new team's inconsistency and a snowballing injury list ( with no fewer than six hamstring victims) have suggested the difficulties in transplanting his previously successful formula to English football.
Klopp has been prepared to admit as much. "Everybody thought 'wow'," he said of a 6-1 win at Southampton in December and a 4-1 thrashing of Manchester City on Nov. 21, while having to speak to the press after a 3-0 defeat at Watford on Dec. 20. "But that was one part of the thing we can do, one side. Now we saw completely the other side. Maybe the truth is somewhere in the middle."
There are times at Liverpool when the "heavy metal football" with which he made his name has resembled little more than insipid soft rock. The past week has seen the two wildly fluctuating sides of Klopp's Liverpool in fullest effect. Saturday's 2-0 defeat at West Ham had Klopp's rage boiling over. "It's no day for being disappointed, it's a day for being angry," he said.
But Tuesday's 1-0 victory over Stoke in the League Cup semifinal first leg saw the return of his trademark toothy grin, his eyes flashing with fun behind his designer spectacles. "We showed what we were capable of," he said after Jordon Ibe's goal gave the Reds a foothold in their aim to get to a first Wembley final since 2012 when they beat Cardiff on penalties.
Yet despite a dangerous Stoke team being driven to distraction by a well-executed plan, Klopp still had to defend himself on Tuesday as both Philippe Coutinho and Dejan Lovren limped from the field holding injured hamstrings. "Yeah, that's it, we will have to look at our training methods," he said, his words tinged with sarcasm. "No problem, really. If you want to make me responsible for our hamstrings... then we have to see what we can do."
Klopp is familiar with accusations that his "gegenpressing" strategy of players hunting down opponents in packs to win back possession leads to fatigue-generated injuries. At Dortmund, in the 2014-15 season, he suffered a rash of absences to key players from an already thin squad, with knee problems to players such as Jakub Blaszczykowski, Neven Subotic and Nuri Sahin compounding a litany of muscle injuries and the long-term hip and ankle problems of Ilkay Gundogan and Marco Reus, respectively.
Klopp's final campaign saw Dortmund in the relegation zone heading into the Bundesliga winter break, but during that five-week rest period, the manager was able to gather his thoughts and piece back together a squad that eventually recovered sufficiently to qualify for the Europa League. Training at La Manga, southern Spain, in a relaxed environment he was able to work his players back through the pressing drills that had previously brought them such success.
"We don't train, we only recover," Klopp lamented by contrast at Stoke on Tuesday. On Christmas Eve, he told the BBC that a reason for England's failure at tournaments and Premier League clubs' diminished returns in European competition was the lack of that winter break -- an unsubtle hint of his dissatisfaction at the relentless of the English football calendar.
But with such a change to season scheduling unlikely to happen in the imminent future it is a situation he is going to have to get used to, along with many other differences -- chief among them being the expectation placed against any manager of Liverpool.
Klopp is having to build a team from players bequeathed by predecessor Brendan Rodgers and the club's infamous transfer committee, a body he is yet to deal with save for the addition of two youngsters: Serbian midfielder Marko Grujic and goalkeeper Kamil Grabara.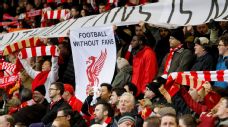 Striker Christian Benteke, dropped to the bench at Stoke, Rodgers' final big signing at £32.5 million from Aston Villa, already looks a likely early victim of this regime. The Belgian's status as top scorer on seven goals will not protect him. Among Klopp's first moves at Dortmund was to ship out striker Mladen Petric to Hamburg and Alexander Frei the following year to Basel. Both scored goals but neither ran sufficiently to suit the system, just like Benteke, who statistics showed had covered the least ground of any Liverpool player at West Ham.
The aggression of teams like West Ham, and Watford before them, are rarely found in German football, and the search for the right formula for Liverpool looks likely to take significant time to locate, as Klopp always stated it would.
Three months in, the new manager appears lucidly aware of the difficulties of being Liverpool's manager but he should also be aware that English clubs rarely give bosses the kind of time to settle that he has previously had.
John Brewin is a staff writer for ESPN FC. Follow him on Twitter @JohnBrewinESPN.