Tottenham have added a backbone and are now primed for success
It's a good time to be a Tottenham Hotspur fan. Half a season ago, the team was considered at best an outside contender for the top four and a Champions League berth. Twenty games later, it's not Champions League qualification for which Spurs are a dark horse candidate; it's the title. They sit comfortably in fourth place, only six points behind first-place Arsenal and three ahead of fifth-place Manchester United.
A quick look at the table sure makes it seem like Tottenham has taken a major leap forward this season, but at the same time they've only accumulated 36 points, a total in line with their recent history. In fact, since their Champions League qualifying season of 2009-10, the only time Spurs have failed to take this many points from their first 20 games was last year, when they took 34.
The question is, have Spurs really improved? Or is the excitement around them merely the case of Spurs staying the same and benefiting from the implosions of Chelsea and Manchester United?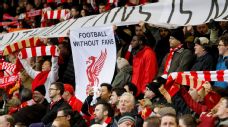 Given their points total, the case for a new and improved Spurs rests not in their results but in their performances. The glaringly obvious indicator is a plus-18 goal difference, tied with Manchester City for the best in the league. Last year at this time they might have had 34 points, but their goal difference was a very unimpressive plus-2.
But Spurs are somewhat flattered by their goal difference so far this season. The combination of clinical finishing from Harry Kane and Dele Alli, among others, combined with the shot-stopping of Hugo Lloris has Spurs well outpacing their expected goal difference of plus-8. As advanced analytics tell us, eight is greater than two and last year, after 20 games, Spurs' expected goal difference was significantly worse than their actual goal difference, clocking in at minus-4.
So, Spurs are a little weird. They have fewer points than their goal difference might suggest they should, but a higher goal difference than their performances indicate they might deserve. Regardless, it's still a significant improvement over last season, where Spurs acquired points by consistently nabbing goals against the balance of their performances.
The case for Spurs improvement isn't that their performances this year should have netted them more points (though you can make that argument), but rather that it's quite clear their performances last year should have netted them less.
A press defense proves problematic
Last season, Tottenham were a bad defensive team. Not bad as in "mildly disappointing" or bad for Champions League-contender bad, but near-the-bottom-of-the-Premier-League-table bad. They conceded 53 goals, fifth-worst total in the league despite Hugo Lloris having an extremely impressive season between the posts. Spurs' expected goal total against was 61.74; only QPR and West Ham conceded more expected goals.
What made their defensive woes particularly confounding is how frequently they gave up high-quality shots to their opponents. Many of the other poorest defensive teams in the league struggled primarily because of the sheer volume of shots and shots on target they conceded to their opponents. Spurs were average in that respect (490 shots/170 on target were 11th and eighth-worst in the league, respectively) but their Achilles' heel was their inability to prevent the very best shots.
Teams shot from an average of 17.2 yards away against Spurs, the closest conceded distance of any team. They simply couldn't keep opposing teams at arm's length, letting them tee off on Lloris from inside the penalty area over and over and over again. When it came to the most dangerous kinds of shots (nonheaders inside the penalty area) Spurs gave up the fourth-most in the league, the third-most shots on target and the second-most expected goals at just under 35.
Last season's Spurs squad were the definition of what trying and failing to play a press-based defense looks like. They successfully kept teams from stringing together passes -- opponents had the second-lowest completion percentage in the league at 73.6 percent -- and forced them to launch long balls rather than build attacks.
A full 20.1 percent teams' passes against Tottenham were over 35 yards, the highest total in the league. But the price they paid was being horribly exposed when opponents were able to break through, which occurred far too often. It meant that the Spurs' defense was out of position and unable to either prevent or block shots in the most dangerous areas. Mauricio Pochettino's side blocked only 25.3 percent of opponents' shots last season, the third-lowest total in the league.
No more cheap shots
All of that has changed this season. Acquiring Toby Alderweireld to play in central defense alongside his Belgian countryman Jan Vertonghen and revamping the central midfield has worked wonders. Last year's preferred pairing (Nabil Bentaleb and Ryan Mason) has been relegated to the bench through a combination of injuries and shifting priorities, while Eric Dier, who struggled last year while shuffling between right-back and center-back, has become Spurs' linchpin in a defensive midfield role.
The result is a unit whose performance this year is virtually unrecognizable from last year. All of a sudden, after a year of leaking like a sieve, Spurs can stop other teams from shooting. Last year they were average; this year they've given up the fifth-fewest total shots and are the best in the league at conceding shots on target, with Lloris only getting tested 64 times. As for those nonheaded shots in the box that Spurs were guilty of gifting to teams last year, they're almost completely gone. They've conceded the fourth-fewest of them in the league (68) and the fewest on goal (24) while overall, Spurs are conceding fewer shots.
Here are the shots Lloris faced over the first 20 games of the 2014-15 season:
Now, the shots he has faced over the same span this season:
Everything is pushed out from the center. Those shots are easier for a keeper to stop and easier for defenders to block -- Spurs are now blocking 32.9 percent of opponents' shots, fourth-best in the league and another area of marked improvement.
Better yet, the back half of their defense has improved without conceding their aggressiveness over the rest of the field. They still force opponents into the second-lowest pass completion percentage. They still make teams play a higher percentage of long balls than any other team, and they still use that aggressiveness as a platform for creating chances.
Spurs have the fourth-most shots in the league despite having only the ninth-most passing attempts in the final third. Usually with a profile like that, you'd expect the team to rely on long balls from the back to begin direct attacks. But that's not how Spurs do it; instead, they rely on their defense in the middle of the field to win back possession for Christian Eriksen, Erik Lamela and Harry Kane, who combine with the young phenom Alli to create quick scoring chances before their opponent has arrested their forward momentum.
When most teams improve in one area, it comes at the expense of another. It's not only that more attacking usually means less defending and vice versa, but trade-offs might even occur within the individual phases. More wing play means less central creativity, more pressing leads to being more open at the back; it's a series of tradeoffs. That's what makes this defensive change in Spurs particularly noteworthy. Whether it's the change in personnel, tweaks in the system or simply another year of training under Pochettino, Spurs have improved part of their defense without suffering any drawbacks in other areas. That's the sign of an improving team.
This time last year, Tottenham sat in fifth place with 34 points. The fact that they're currently in fourth with 36 doesn't seem like that big a deal, especially in the context of a season that has several perennial favorites busy being unable to get out of their own way. But that's where the similarities between last season and this one end for Spurs. Last year, they struggled to keep their heads above water, and it took a whole bunch of unlikely late goals and great Lloris saves to keep them even close to contention. This year, they're still getting the heroics, but they've added a backbone to their performances.
Ultimately, goal difference might flatter Tottenham, but unlike last season, their position in the table and their point total doesn't. This team isn't good enough to challenge for the title yet, but a top-four finish is a probability. Spurs aren't simply contenders for a Champions League position; they're favorites for one. And that might be the biggest change of all.
Mike L. Goodman is a Washington, D.C.-based soccer writer and analyst covering European soccer, the U.S. Men's National Team and more. Follow him on Twitter @TheM_L_G.