Ryan Giggs well-placed to succeed Louis van Gaal at Man United
It seems Manchester United have stepped back from the precipice of removing manager Louis van Gaal. On Monday, the Dutchman's demeanour after a 0-0 draw with Chelsea could hardly have been more different to the stricken, beaten man who suffered a 2-0 loss at Stoke on Boxing Day.
A 0-0 draw against the 16th-place club in the Premier League -- with a United team that had not won in seven matches -- hardly seemed cause for triumphalism, but Van Gaal exhibited a reborn defiance. "The players are willing to fight for every metre, the manager is willing to fight, the members of staff are willing to fight and the board is very confident in the staff," he said.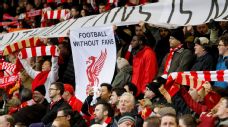 So Van Gaal fights on, though still needs to turn around his team's fortunes, starting with the Jan. 2 Premier League home match with struggling Swansea City, and the following Saturday against Sheffield United in the FA Cup third round. Failures there would swiftly reheat the calls for change but it seems Van Gaal has been the beneficiary of indecision at executive level, and the reluctance of some senior figures to turn to Jose Mourinho despite the fact he is free and available after being sacked by Chelsea on Dec. 17.
Former manager Sir Alex Ferguson, who shares a publicly warm relationship with Mourinho, turned instead to David Moyes as his replacement when retiring from first-team duties in May 2013. Sir Bobby Charlton -- a fellow member of the club's football board -- was another reluctant to engage the services of the Portuguese and told The Guardian in December 2012 that Ferguson "doesn't like him [Mourinho] too much."
Executive vice-chairman Ed Woodward has developed a relationship with Mourinho's agent Jorge Mendes, having worked with him on deals that include bringing his clients Radamel Falcao and Angel Di Maria to Old Trafford and striking a new contract for goalkeeper David De Gea in September.
So far though, Woodward and club owners the Glazer family have not made a move to bring in Mourinho. It is still hoped that Van Gaal can turn United's fortunes around and see out the remainder of his contract to the summer of 2017, while Pep Guardiola, who will walk away from Bayern Munich this summer, may yet be tempted to M16, though neighbours City remain the favourites for the Catalan's signature.
It is a muddled state of affairs that leaves the position of Ryan Giggs in some question. Assistant to Van Gaal just as he was to Moyes, Giggs is the club legend and all-time appearance record-holder who many around Old Trafford see as the future manager. And a time when that destiny will be realised or denied draws closer.
"For me, he's going to be next in line," former United and Wales team-mate Clayton Blackmore told ESPN FC in October. "He's the natural one to take over."
Van Gaal himself has stated that Giggs will be his successor, suggesting in September that forward Anthony Martial was bought from Monaco for £36m plus add-ons for the next manager, and not himself. Also in September, Rio Ferdinand, Giggs' former teammate, wrote in his Sun column that Giggs' appointment as manager would be "a natural progression."
Further supporters for his candidacy include Giggs' fellow members of the "Class of '92" cabal that part-owns Salford City FC and the Hotel Football complex that neighbours Old Trafford, though leading light Gary Neville's sudden move to Valencia suggested that he also possesses serious ambitions in management.
Most importantly, Ferguson, who in retirement remains close to and influential with his former players, tipped Giggs as a future manager in his 2013 autobiography. Indeed, sources have told ESPN FC that the Welshman is Ferguson's preferred candidate if and when van Gaal departs his post.
Should Van Gaal's team continue to disappoint in 2016, then Giggs may yet be asked to reprise the caretaker role he fulfilled when Moyes was sacked four games from the end of the 2013-14 season. His ambitions to manage United on a permanent basis have never been explicitly stated, beyond his own admittance in June 2014 that his temporary stewardship proved he was "not quite ready" to take on the job he saw Ferguson perform for all but the last of his 24 seasons as a United player.
But United's next permanent appointment will indicate how realistic Giggs' prospects of ever being handed the reins are.
Were the dominant Mourinho to come in, then Giggs would disappear yet deeper into the background, with it difficult to see him forming a dugout double-act with usual Mourinho sidekick Rui Faria. If it were Guardiola, Giggs may feel he has plenty to learn but the Calatan is barely 14 months older than him. At 42, he cannot continue to wait forever and other horizons may have to be sought.
Despite Giggs' long service at the club -- from teenage sensation, to senior professional, to assistant to United's last two managers -- his would be a hugely sentimental and risky permanent appointment. Comparisons to Guardiola's trajectory from Barcelona B coach to the senior job, where he harnessed the club's traditions to make them the best team of the last two decades, have been made but appear hopeful in the extreme.
Yet with some influential admirers, United powerbrokers divided on Mourinho and Guardiola a perhaps vain hope, Giggs' succession cannot be fully ruled out.
John Brewin is a staff writer for ESPN FC. Follow him on Twitter @JohnBrewinESPN.