Leicester success, Pep Guardiola's new job: David Hirshey's wishes for 2016
The aphorism "be careful what you wish for" can be traced back to the 18th century German philosopher Goethe but for Arsenal fans, it didn't actually sink in until January 31, 2014. That was the day Gooners finally had their prayers answered when the esteemed French philosopher Arsene Wenger heeded their relentless demands to buy a defensive midfielder in the winter transfer window.
Of course, history painfully reminds us that Kim Kallstrom, a 32-year-old Swedish international, didn't actually have an immediate impact on the team because he wasn't quite fit -- or whatever euphemism you use when someone has a broken back. So I'm not about to risk triggering the Kallstrom Kurse and include anything in my wish list for the coming year that really matters to me -- like, say, Arsenal winning the league for the first time in 11 years.
Still, there are things that I would like to see happen in the Premier League in 2016. Just be careful that you don't invest too much hope in them coming true.
Leicester to qualify for the Champions League!
Look, I love the idea of the Foxes winning the league as much as the next self-styled romantic. They've become my third favorite team right behind Arsenal and whoever is playing Chelsea. But get a grip: Leicester are not going to be crowned this season's champion of what has become the "Most Unpredictable if No Longer Most Exciting League in the World." There are still five months of hamstring-tearing soccer left to play and if there's one thing that being an Arsenal fan has taught me, that's about four-and-a-half months too long.
If either of Leicester's Coming-to-a-Club-Near-You-For-A-Ludicrous-Transfer-Fee duo of Jamie Vardy and Riyad Mahrez were to get injured (and given that they've played in 18 of Leicester's 19 league games so far, it's something of a medical miracle that they're not already crocked) then expect Leicester's title challenge to last about as long as a Louis Van Gaal press conference.
But given the confidence and belief Claudio Ranieri has instilled in his team, there's another feel-good scenario that I can imagine: Leicester edge Spurs for fourth place on goal difference.
Pep Guardiola to manage three teams simultaneously
Hey, the man needs a challenge after owning La Liga and the Bundesliga over the past decade and three of England's richest clubs need a manager to nudge them to their rightful Prem places. So why not level the playing field and have Pep rotate from team to team?
If he's half the genius he believes he is, he could probably succeed with all three: save Chelsea from relegation, return Man United to the Europa League for the second straight year and take Man City to within sight of Arsenal, which as of this writing is the only member of the Big Four not fluttering eyelashes at the Spanish maestro.
And given the former Barcelona man's Jose Mourinho-like three-year attention span, this plan would let him stay long enough in one country to prove himself in a league where this season there are a half-dozen teams capable of winning the championship, rather than just the usual two suspects that Guardiola has had to contend with in Spain and Germany. Or as Mourinho himself put it upon hearing that his long-time rival had left Barca for Bayern Munich, "Maybe some day I go to a country where the kit man can win the title."
John Terry to remain in London
Given that Guus Hiddink is a short-timer with a "suurfeit" of U's in his name and a Dutch pedigree that does not bode well for Prem success, Terry should take out the middle man just like he's taken out opposing strikers and the etiquette guide for all these years and just make himself the boss. He already has the respect of the veteran players and needs to do something other than play if he wants to benefit the club.
And think about how much he can save owner Roman Abramovich before London's favorite plutocrat hurls a boatload of rubles at another superstar manager who can guide Chelsea for fewer than 40 games.
Someone to put Louis van Gaal (and the rest of us) out of his misery
It's only a matter of time until the cantankerous Dutchman with "a face like an Easter Island statue" (to steal David Winner's memorable phrase) becomes Louis Van Gone. And he knows it, too.
He has already delivered one of the great exit lines in managerial history right up there with "You're not going to have Dick Nixon (ask your grandparents, kids) to kick around anymore." I'm referring, of course, to how he ended his epic three-question press conference last week. After making a perfectly valid point that the stories being written about his imminent sacking were not based on actual facts, he essentially flipped the linguistic bird to the entire British press corps with these parting words: "Enjoy the wine and meat pie."
For a man who up to that point had exhibited a personality reminiscent of wallpaper paste, this was the height of lyrical grandeur and in some ways makes up for his transforming United into a monument to turgidity with his "philosophy" of Total Boring-ball.
Wayne Rooney to recover his mojo
Watching Wazza at the 2004 Euro Cup was as revelatory then as it is depressing now in 2015, seeing him turn into The Little Shrek Who Couldn't. His influence was starting to fade under the formidable Sir Alex Ferguson and things only got worse when David Moyes declared him a "back-up" striker to Robin van Persie. But after Chelsea offered a paltry $35 million for the unhappy star in July of 2013, United blinked, re-signing Rooney six tumultuous months later to a five-and-a-half year contract subsequently worth an absurd-in-hindsight $450,000 a week and handing him the captaincy.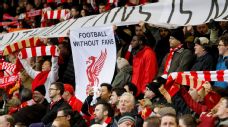 When van Gaal replaced Moyes, Rooney initially appeared re-energized but soon fell out of favor with the Dutchman, and this season has been so sad as to be Kobe-esque. If ever an Englishman deserved an Indian summer revival, it's the nation's all-time leading scorer, whose combative spirit and high-grade soccer intelligence could prove the perfect complement to the young gunslingers Harry Kane and Jamie Vardy and lead the Three Lions to their traditional quarterfinal exit at the European Championship in June.
Jose Mourinho to land a gig managing an Arsenal side with a legitimate shot at both the Premier League and the Champions League.
So, the Arsenal Ladies it is.
Jurgen Klopp to have more fun
Remember when the ebullient German swooped down from the Bundesliga heavens to replace Liverpool's latest master of the mediocre, Brendan Rodgers, and cries of "Wunderbar!" were heard across the Premier League landscape. Here, finally, was someone who could infuse Liverpool with the kind of fist-pumping passion and uber-positive football that would make the Reds likable and fun to watch.
But then in quick succession came a verbal tussle with a Chelsea supporter followed by an almost feral display of rage against Tony Pulis over the West Brom manager's excessively aggressive tactics. Watching Klopp bare his Luis Suarez-esque fangs at Pulis, you'd be forgiven if you thought he was auditioning for the role of the bear in "The Revenant."
And then on Wednesday, the police at the Stadium of Light had to intervene in a touchline kerfuffle with Sunderland manager Sam Allardyce and his assistant coaches after Klopp unleashed a torrent of "foul and abusive language" in the wake of a studs-up tackle by Jeremain Lens on Liverpool's Mamadou Sakho. All of which raises the question: Is Klopp bekloppt (crazy)?
Nein, I say. Klopp has always been about emotion, but at Dortmund we mostly saw the joyful kind as he led the black and yellow to consecutive Bundeliga titles and the final of the Champions League. There is, however, a manic intensity to the otherwise jovial German that can erupt when he feels aggrieved. And both Pulis and Allardyce are long-time advocates of a physical brand of retro soccer designed to get under the skin of managers whose teams try to play with skill and verve. They succeeded in winding up the Liverpool manager to the point where he refused to shake Pulis' hand afterwards (a snub for which he later apologized), and lost his cool with Allardyce.
Big Sam subsequently tried to further bait his adversary by calling him a "soft German" but Klopp laughed off the xenophobic insult. "I've been called worse," he said, flashing his infectious life-is-gut smile, which was the mature response, if not the one most fans wanted to see. How much more satisfying would it have been if he had gegenpressed Allardyce to within an inch of his life sort of like he hugs his players or staff. Of course, that would have required being able to get his arms around the "fat Englishman," to quote Kingsley Amis.
Stoke-a-lona to "ole!" their way into the Europa League
Here's a sentence that I never expected to write: I enjoy watching Stoke play. For the past five years, ever since Ryan Shawcross snapped Aaron Ramsey's leg like a twig with a criminally reckless tackle that cost the Welshman a year of his career, I have harbored nothing but ill will toward the Potters. With their thuggish challenges, hoof-ball tactics and Rory Delap hurling missiles into the next county where tall, gangly strikers waited for them to land on their heads, Stoke embodied the opposite of what I love about the game: skill, creativity, fluidity.
But those Potters -- the ones managed by Tony "he's not that kind of player" Pulis -- are no longer. Under Mark "Sparky" Hughes, they have been transformed into one of the most entertaining sides in the league. Spearheaded by a front three of Bojan Krkic, Marko Arnautovic and Xherdan Shaqiri, they play with a flair and swagger that has seen them defeat the likes of Manchester United, Man City, Chelsea, and Everton to climb into top half of the table.
Perhaps most astonishingly, Hughes has gotten Shawcross to stop playing shin music and has turned him into the leader of his defense. While the question has been asked of Europe's most stylish teams for years, it can now be put to the Potters themselves: But can they do it on a wet, windy Tuesday night in Stoke?
The answer, so far this season, has been a resounding yes.
Fewer under-achieving celebrity managers, more over-achieving relative unknowns
While I genuinely enjoy munching karma-flavored popcorn as pompous blowhards like Mourinho and van Gaal fall out of beds of their own making, can we take our eyes off the Pep Sweepstakes for a heartbeat and savor the impressive work done by a less glamorous Spaniard and a 38-year-old Englishman who toiled in relative anonymity in the lower leagues?
Eddie Howe was 31 when he was tapped to manage Bournemouth, which then had no training ground nor any money to pay its players. Oh, and they were rooted to the bottom of the Football League, 10 points from safety. After performing a Houdini-like feat of escapology, Howe was lured away to Burnley for 19 months before returning to the seaside resort to engineer Bournemouth's remarkable rise to the top flight this season.
The Premier League debutants got off to a predictably wobbly start but they were unbeaten in their past six matches before losing to Arsenal on Tuesday. Bournemouth has no marquee names but enough solid professionals whom Howe has convinced they can compete at the top level by outworking their opponents. Up the Cherries!
Hands up if you even looked up from your Tinder search when Quique Sanchez Flores became Watford's fifth manager in a year, let alone predicted the newly promoted Hornets with 16 new players would be sitting one point off the top four by Boxing Day. Though Flores comes from a rich Spanish pedigree -- his godfather was the great Alfredo Di Stefano and he has managed three different La Liga clubs (Getafe, Valencia and Atletico Madrid) -- he had never been in charge of an English team until this season, which may be why he abjures the traditional touchline garb of track suits and running shoes in favor of cardigans and suede loafers.
For a manager whose mission was simply to keep Watford in the Premier League, he has resisted the safety-first, 10 men behind the ball approach. Instead, he fearlessly deploys two brawny, indefatigable strikers, Odion Ighalo and Troy Deeney, who have muscled their way to 17 goals between them and were instrumental in the recent 3-0 demolition of Liverpool. What a refreshing contrast Flores has been to his more acclaimed counterparts who would rather lose their jobs than play with two up top.
Ain't that right, Jose?
Arsenal to win the league
Okay, so I lied and no doubt I'm setting myself up for soul-crushing disappointment come May. But if Mesut Ozil can continue to find those pockets of space visible only to him and Alexis Sanchez can come hurtling back from injury with his full-throttle energy intact, well, I say to hell with the Kallstrom Kurse.
David Hirshey is an ESPN FC columnist. He has been covering soccer for more than 30 years and written about it for The New York Times and Deadspin.