Leicester City can't win the Premier League this season ... or can they?
The season was two weeks old and a scent of change was in the air. Leicester had won well against Sunderland and West Ham in their first two games but it felt more significant that on a bright lunchtime in a room adjacent to the King Power Stadium press suite, a group of journalists were huddled round a table with one of Europe's better-known midfielders.
Twenty-four hours earlier, Gokhan Inler had signed from Napoli and as he addressed questions about his new side's prospects with a smile and an "anything can happen" quote, you were tempted to agree that perhaps it might. The decorated Swiss national team captain had not been brought in without reason. Like Yohan Cabaye at Crystal Palace, he was intended to be a high-profile catalyst for transformation, a player that could help a member of the traditional lower order set their sights on the lofty goal of a concerted tilt at the top half.
Three months later, the reality barely seems plausible. Inler has hardly been used, starting only two league games for Leicester, and the Foxes are nowhere near trying to claw themselves into the upper echelons. They're already there: the team that went into Christmas three points adrift at the bottom in 2014-15 will this year open their presents two clear at the top -- and they are doing it without the need for an influx of big-name talismans.
Impostors, pretenders, or bang on course for the most audacious title heist of the Premier League era? It is a question that nobody quite seems sure what to do with. In an age that fortifies us all with the tools for strident opinion forming, Leicester have disarmed everybody.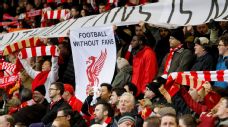 It's a process that started with their manager, the often-caricatured Claudio Ranieri, and continued through the outrageous feats of ex-Fleetwood striker Jamie Vardy and winger Riyad Mahrez, who four years ago was playing for Le Havre's second string. Not since 1977-78, when Brian Clough's Nottingham Forest stormed to the title after finishing third in the second tier the previous season, has there been a comparable rise to prominence, and with today's financial disparity between the regular Champions League qualifiers and the rest, we are far less certain of how to handle it.
Leicester's recent run is hardly a flash in the pan. Under Nigel Pearson, Leicester earned 22 points from their final 10 matches of 2014-15 to complete an unlikely escape from the drop, and it means that their form -- also averaging 2.2 points a game in the first 17 games of this term -- has effectively been consistent for two thirds of a season. If it was easy to explain away Leicester's fast start to 2015-16 as a continuation of the team's momentum, it is harder to be quite as reductive with the campaign close to its halfway stage.
Christmas still doesn't look kind to Leicester. Boxing Day brings a visit to Liverpool and then, three days later, Manchester City visit in what looks like a critical match for their own title hopes given Monday night's 2-1 defeat at Arsenal. If a home match with Bournemouth seems a relatively soft entry to 2016, a trip to White Hart Lane 11 days later has the capacity to bring anyone crashing down to earth.
Navigating these obstacles intact would surely bring a few more believers but there are some obvious concerns. Leicester have fielded just 21 different players in the league this season -- only struggling Swansea have deployed fewer -- and Ranieri plainly does not share his rivals' capacity to freshen up the pack when the fixtures come thick and fast.
Vardy and Mahrez started 26 and 25 Premier League games, respectively, last season; both are on course to be virtually ever-present this time around and it would be a considerable ask for Leonardo Ulloa or Nathan Dyer to have a similar impact if fitness catches up with the first-choice pair. With their defence having conceded more goals than any other in the top 13 along with Everton, there is no exaggerating the attacking pair's influence; as demonstrated by that instinctive first goal by Vardy (set up by Mahrez) against Chelsea last week, it's a partnership that would be near impossible to replicate.
Yet Leicester's wider attributes have helped to expose some of the disarray among the more usual contenders. There is little pretence at the kind of possession-based game that, as Manchester United have shown, can meander into blind alleys. Instead, they break quickly through Vardy, Mahrez and Marc Albrighton, another revelation this season, with Jeffrey Schlupp another useful outlet.
Their brand of pace and directness is not fashionable but it has brought devastating results when matches have opened up: 24 of their 37 goals have come in second halves, and they attack with an intensity that has perhaps been lost elsewhere to intricacy and circumspection. That intensity has also been displayed in their powers of recovery: 10 of Leicester's points have been won after coming back from behind and while it might suggest something of a high-wire act, it also shows the less-tangible force behind Leicester's achievements. Their never-say-die spirit, instilled by Pearson and refined by Ranieri, could usefully be sold in bottles at Old Trafford and Stamford Bridge. Keep up their remarkable propensity to play each game at the tempo of an old-fashioned cup tie and logic may be firmly thrown out of the window.
January may hold the key to the title race. It seems certain that Arsenal (spending on at least one midfielder) will enter the transfer market and those chasing will spy an opportunity to strengthen too. Any additions at Leicester will need to be made wisely and preferably in the mould of the tigerish midfielder N'Golo Kante, who was recommended upon Ranieri's arrival by the head of recruitment, Steve Walsh -- a reminder that plenty of the groundwork for success was laid prior to the summer. There may be the temptation to stick with the current, close-knit squad and let the others recalibrate but would it really do much good to stop and furnish a runaway train?
Life is likely to have changed for the foreseeable future at Leicester, whether or not they cause a collective dropping of jaws in May. Last year, their chairman, Vichai Srivaddhanaprabha, spoke of the club's aim to establish roots in the Premier League's top five. "I am asking for three years, and we'll be there," the Thai billionaire said. They are ahead of schedule and their level of success will have been lost on nobody -- certainly not players, agents or those seeking to exploit commercial partnerships. A finish in the Champions League positions would make a worldwide stir and, if used correctly, could create a global brand.
"I don't want to wake up," Ranieri said after the victory over Chelsea. "I want to continue to dream with our fans." They are not the only ones dreaming. For one perhaps fleeting moment before next season's enhanced television deal pulls the Premier League's riches yet further away from England's also-rans, Leicester are living out the fantasies of all medium-sized clubs.
When Inler said anything was possible, he could have had no idea exactly how vigorously the winds of change that brought him to the East Midlands were blowing.
Nick Ames is a football journalist who writes for ESPN FC on a range of topics. Twitter: @NickAmes82.