Away days set to decide Premier League title and relegation races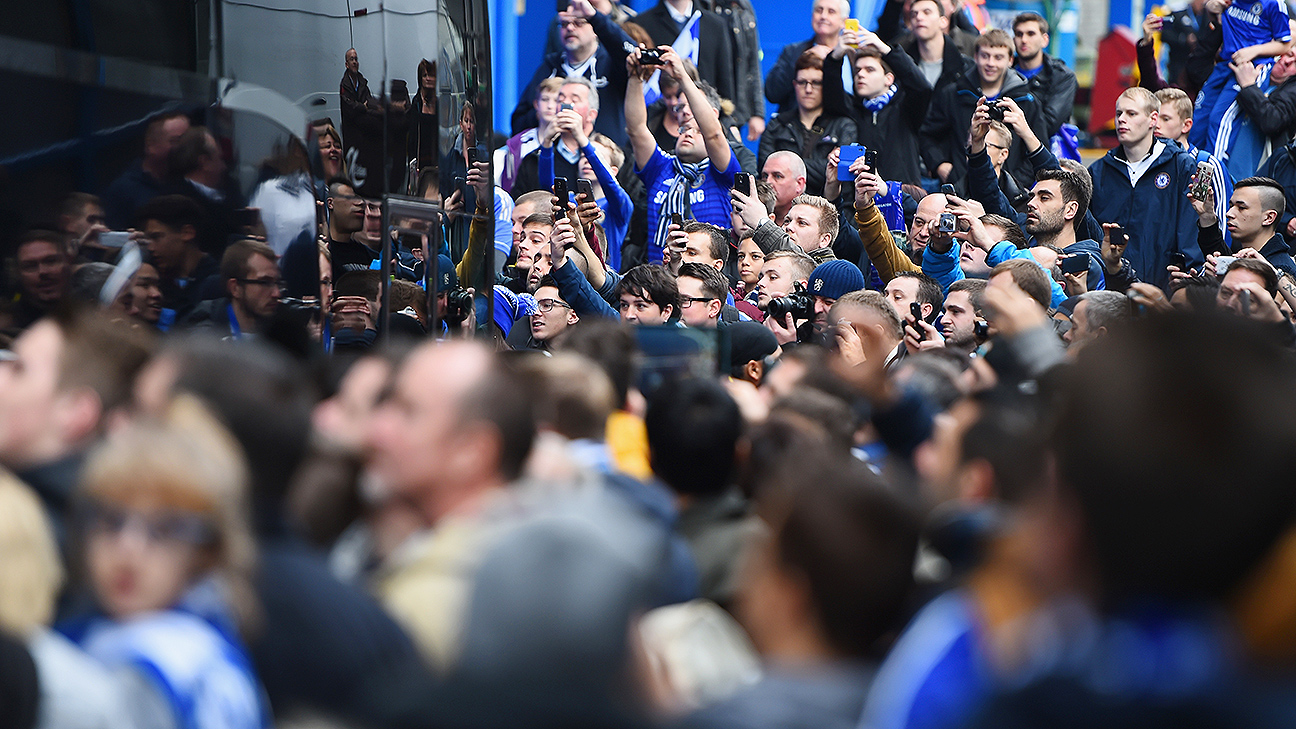 Remember Manchester United last season? David Moyes, "Cold Trafford" and all that? Take a closer look at the final league table, and recall that Moyes' men had just as good an away record as title-winning Manchester City -- played 19, won 10, drew 4, lost 5.
In fact, only Arsenal, with 11 victories, were more potent away from home. Until April 20, when Moyes lost his job after defeat at Everton, and losing at Sunderland two weeks later under Ryan Giggs' temporary charge, United were on course to be some kind of away-day champions.
It was a reverse of the accepted norm, in which a team is far stronger at home than at opposition grounds. United lost seven at home last campaign. This season sees United robust at Old Trafford, with just two defeats and eight victories, but they have won just two wins away. "We have to dominate games away from home," demanded Louis van Gaal ahead of that 1-1 slugfest at Stoke on Jan. 1.
Queens Park Rangers

Manchester United
Game Details
Van Gaal, whose team now have to win all nine fixtures to surpass last season's away record, is not alone in failing to conquer one of the game's great intangibles. Why do teams find it easier at home than away? On Saturday, he takes United to Queen's Park Rangers, the ultimate home team, in that each of their 19 points this season has come at Loftus Road. Their away record is played 10, won 0, drew 0, lost 10. If that continues, they get relegated.
Rangers' defeat at Burnley on Jan. 10 handed them the unhappy record of the worst away sequence since the Premier League's inception in 1992. "It's difficult to win away" was Harry Redknapp's meek explanation. He has been under heavy criticism for the difference in his team's performance away from home. Where Rangers usually press and attack visitors to Loftus Road, Redknapp instead usually fields a single striker and invites opponents to attack when on the road. Following on from a 4-0 August defeat at Spurs, they have been dire.
Away form is not merely a seasonal thing. There are certain away grounds where clubs frequently struggle. Arsenal vs. Stoke City is painted as a Premier League grudge match, when in fact Stoke, after Sunday's 3-0 defeat, have lost their past 13 league matches at Arsenal. Meanwhile, at the Britannia, Stoke have won five matches against Arsenal since they returned to the top flight at the beginning of the 2007-08 season.
"They are different as well," was Arsene Wenger's Sunday explanation for such variance between the two grounds. "We forget sometimes that the opponent is different as well when they come to the Emirates. They are less confident than when we play at Stoke and we are less confident when we play at Stoke than when we are here."
At the Britannia in December, Stoke began like the express train and held on to defeat Arsenal 3-2. On Sunday, they sat back to try to thwart Arsenal and paid an Alexis Sanchez-shaped price.
Confidence and comfort will always play a role in a team's performance, as Moyes' struggles at Old Trafford suggested. It was there that they -- especially he -- froze. United's ground, under Sir Alex Ferguson, was previously a fortress, where opponents turned up beaten before they had kicked a ball, as was also once the case at Liverpool. That famed "This is Anfield" sign was Bill Shankly's means of psyching out the opposition as they squeezed down the narrow tunnel before kickoff.
Such tactics were once legion. According to Gary Lineker in BT's recent "Crazy Gang" documentary, Wimbledon FC's Plough Lane visitors' dressing room had no heating. Brian Clough at Nottingham Forest used to put the away team dugout halfway down the City Ground sideline to affect his opposite number's vantage point.
These days, away teams are greeted off luxury coaches with a smattering of boos from onlooking fans, and the flashing of camera phones as the hordes attempt selfies. But that is often as oppressive as it gets for the modern-day elite. Last month, it was revealed that Manchester City are not heating away dugout seats at the Etihad, to follow a policy other clubs pursue, but visiting teams now bask in warmth and comfort compared to those bygone days of dirty bathwater and broken windows.
Manchester City

Arsenal
Game Details
Yet playing away continues to remain a huge Premier League factor. A leading reason for Manchester City arriving on the shoulder of leaders Chelsea has been excellent away form -- a discipline they struggled with last season in the early months of Manuel Pellegrini's reign. The addition of the more combative Fernando in midfield has helped, and City are not quite as gung-ho with their attacking.
Seven away wins, two draws and a single defeat from 10 matches is fearsome compared to Chelsea's five wins, four draws and two defeats. Chelsea's two recent away losses have had deep roots in a reliance on defensive midfielder Nemanja Matic, who was suspended at Newcastle and lacklustre at Spurs on Jan. 1.
Chelsea, though, have won all of their 10 games at home -- a sort of inverse QPR -- and escaped the Etihad, Anfield and Old Trafford without defeat. City are yet to make those two trips, and visit Chelsea on Jan. 31.
Away days are set to be vital for the destiny of the top and bottom of this season's Premier League.
John Brewin is a staff writer for ESPN FC. Follow him on Twitter @JohnBrewinESPN.