Next step awaits Schurrle in 2014-15
Since the curtain was drawn on the 2013-14 season at Stamford Bridge, the transfer merry-go-round has been commanding everybody's attention. While there might not have been a major overhaul of personnel, there have still been some major acquisitions and some notable exits. But while the purchases of Diego Costa and Cesc Fabregas and the sale of David Luiz to PSG have dominated the headlines, one slightly less celebrated player who is already at the club could end up having a hugely influential season.
Andre Schurrle has now been at Chelsea for a year and returns for his second season as a World Cup winner. Simply being a part of your national team's winning squad, however, does not necessarily mean that you played an integral role in the achievement, as shown by the limited involvement from Lukas Podolski this summer or Pepe Reina four years earlier, though that was certainly not the case with Schurrle.
The former Bayer Leverkusen forward played a fulsome part in Germany's victory, scoring three goals -- including the one that broke the deadlock against Algeria in extra time of their second-round encounter -- and, of course, supplied the run and cross that set up Mario Gotze for the winner in the final. In fact, the only match in which he didn't feature was the group-stage clash with Ghana, the only one that Joachim Low's side failed to win in Brazil.
- Macintosh: Premier League predictions
- Report: Costa eyes 'every trophy available'
- Report: Mourinho: Fabregas 'right to replace Lampard'
It should be pointed out that he did not start any of those games, such were the options at the manager's disposal, and he was restricted to trying to make a difference from the substitutes' bench. But make a difference he most certainly did. The problem for Schurrle now, though, is that he risks being commonly perceived as an impact sub rather than a regular member of the starting eleven, and this applies as much to Chelsea as it does to Germany. That, however, would be unfair, as his attributes are far greater than merely being a super-sub employed to stretch tired defences.
While being able to change the game as a replacement is undoubtedly a good trait, the 23-year-old has certainly shown enough in the past 12 months to suggest that he will be competing regularly with fellow attackers Eden Hazard, Oscar, Willian and Mohamed Salah for a starting berth. Indeed, it is an indication of Chelsea's array of options in that area that he only made 15 starts in the Premier League last season.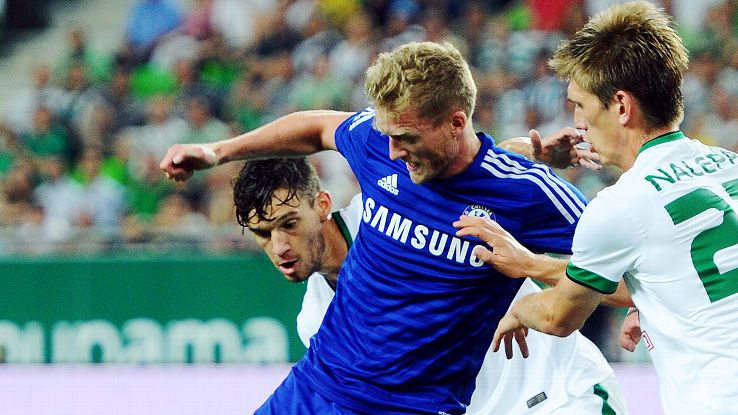 One of Schurrle's most striking characteristics is his willingness to work. Once on the pitch, he is constantly on the move, either pulling out wide, bending his run beyond the defence or arriving late into the penalty area. His desire and determination to succeed has been exceptional, not least when he was practically shelved during the middle part of the last campaign by manager Jose Mourinho, who told him that he needed to bulk up and increase his upper body strength if he wanted greater involvement in the team. Rather than sulking at his manager's stance and insisting that everything must be on his own terms, Schurrle took the instructions on board and did what he was told. He came back into the fold more prepared for the rigours of English football and promptly netted a hat trick at Fulham.
The German's eye for goal has been as impressive as his work rate with the capability of striking the ball cleanly with either foot ensuring that opposing defenders are unable to push him onto any weaker side. Schurrle has also shown that the calibre of the opposition has little bearing on his ability to score, as goals against Manchester City, Arsenal and PSG would testify. Along with Hazard, Costa, Oscar and Fabregas, he adds yet another weapon to Chelsea's burgeoning armoury.
There are still areas for Schurrle to work on if he wants to become a regular fixture in Mourinho's first eleven, with the most important being consistency. In his debut campaign, he struggled to string a run of good displays together, as a devastating outing would often be followed by a mediocre one. One example came in March when he played a central role in the 6-0 evisceration of Arsenal only to be virtually anonymous as the Blues fell to a 1-0 defeat at Crystal Palace a week later. It is not clear whether the root of this is complacency, a lack of confidence or something else altogether, though he will need to eradicate any fluctuation in performance if he is to gain the permanent trust of his manager.
Thankfully, the professionalism that he has exuded since his arrival at Stamford Bridge last summer has brought him much credit both within the club and among the supporters. That attitude together with the surging self-belief that must have come with his World Cup winners' medal should mean that a consistently effective Andre Schurrle could be gracing Premier League grounds more often this season.
Phil is one of ESPN's Chelsea bloggers. You can follow him on Twitter @PhilLythell.