Hart under pressure from Caballero
"The save of the season," said Roberto Martinez and if the unofficial award is dictated by the importance of the stop, it certainly is. It came in the penultimate weekend of the league campaign. Manchester City went to Goodison Park three points behind leaders Liverpool but with a game in hand. They had recovered from being a goal down to take a 2-1 lead. Then Ross Barkley set up that fine finisher Steven Naismith. Joe Hart denied the Scot with a brilliant fingertip save; the humble yet frustrated Everton manager led the praise.
Minutes after Hart's intervention, Samir Nasri scored City's third goal. Eight days later, they were crowned champions. It seemed like confirmation of the Englishman's renaissance: He had returned revived after being dropped in the autumn of 2013; debates about his place, whether for club or country, had been closed. He reigned supreme.
Two months later, the scenery has changed again. Hart did not have a World Cup to justify the hyperbolic English suggestions that he is among the planet's best goalkeepers. He was beaten four times and only saved two shots, so few that it is simple to name the men he denied: Antonio Candreva and Mario Balotelli. The nature of the job means it is wrong to judge goalkeepers purely by their number of stops, but Hart was the anti-Tim Howard of the World Cup as the Three Lions went home early.
There are few calls for Ben Foster, Fraser Forster or anyone else to displace him in the national team's colours -- there just aren't the options -- but he does face greater competition for his place at City this season. Ostensibly, he has a new understudy with Costel Pantilimon released and Willy Caballero recruited. More realistically, he has a rival. If Pantilimon rarely let City down on his few outings, he scarcely inspired confidence, either.
In contrast, Caballero definitely commands Manuel Pellegrini's trust. There is a pertinent precedent, too. He has come from Malaga, where he played for the Chilean. So did Martin Demichelis 12 months ago, via a brief stint at Atletico Madrid. One Argentine was perceived as a backup when he arrived; another has the same billing.
Pellegrini seems to like unfashionable South Americans. He is also a loyalist, a man whose faith in Demichelis was not shaken when the centre-back was heavily criticised in February. The most famous of the supporters' banners saluting the understated manager described him, quoting the Mancunian band The Smiths, as "This Charming Man."
A more accurate depiction, perhaps, would be "this stubborn man." Pellegrini, like many successful managers, is equipped with a conviction he is right. And Demichelis' flowering, albeit belatedly, provided some vindication. The defender's selection for the Capital One Cup final was instructive, too. City's deputies had played in most of the previous rounds. Pellegrini then omitted Joleon Lescott, but persevered with Pantilimon in goal, at Hart's expense.
It was a sign the goalkeeper didn't rank among the manager's favourites. Hart, who was omitted for seven league games at the end of 2013, never seemed to fully concur with Pellegrini's rationale that he needed a rest. Recalling Hart was the pragmatic choice, but the sense is the 60-year-old regretted not dropping him sooner, not least because his final error gifted Chelsea a winner that could have decided the title race.
It was one mistake too many and came at a point when City's away form was criticised -- it took a stubborn Pellegrini months to admit it was poor -- because of defeats that included a blunder from Hart, whether at Cardiff, Aston Villa or Chelsea.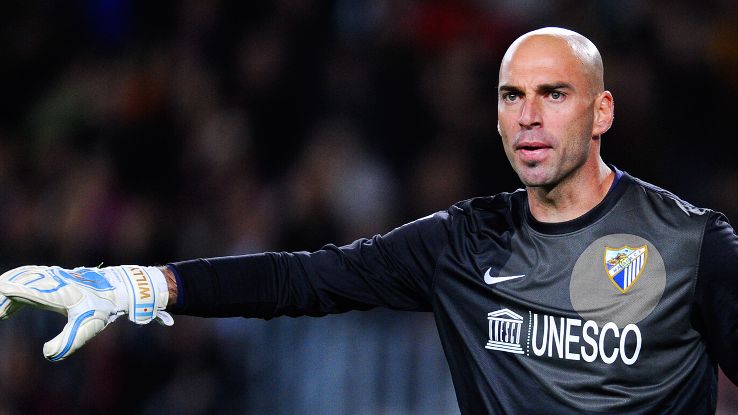 The links with Caballero began then. It raises the question if his mind was made up in Hart's awful autumn. Still, Pellegrini brushed aside suggestions then that he was planning a January raid for a goalkeeper. "When the transfer window starts, you will have a lot of difficulties to know who the first-choice goalkeeper will be because we will have [Iker] Casillas, [Victor] Valdes, [Manuel] Neuer, Caballero and [Asmir] Begovic, so I think you will have to ask me about six new goalkeepers," he joked in December.
Examine those names and Caballero appears an oddity: compared to the Real Madrid, Barcelona and Bayern Munich men, he is comparatively low profile. The Argentine is uncapped, even by a country that was perceived to have a goalkeeping problem. He was also more attainable, available as Malaga's finest recent side broke up, and already known to Pellegrini.
City were irritated by suggestions they paid six million pounds for a reserve goalkeeper. Actually, they paid an initial 4.4 million pounds -- the fee could rise -- for one who has the potential to become the preferred choice. Had City simply wanted a backup, they would have been better served signing someone who qualified as homegrown, given the shortage of such players in Pellegrini's squad.
Instead, the indications are that Caballero has been bought to challenge Hart, and that he is very much Pellegrini's choice. The Englishman has not really had a rival since Shay Given left in 2011; Pantilimon was only a stopgap solution last season.
But, if Pellegrini feels he has solved one problem, he has revived another. While, by the end of the season, he was being congratulated for his handling of Hart, last autumn he was irritated by the barrage of questions about his goalkeeper. As Pellegrini is reunited with one familiar face, in Caballero, there could be another repeat.