Luis Enrique: Barcelona's 'attitude' makes them hard to beat
Barcelona coach Luis Enrique praised his side's intensity and attitude after Lionel Messi's latest La Liga hat trick helped his side to a 5-1 win at Rayo Vallecano on Thursday night.
Ivan Rakitic and Arda Turan were also on the scoresheet, along with Rayo centre-forward Manucho, with the home team also having Diego Llorente and Manuel Iturra sent off.
The Blaugrana coach said in his postgame news conference at the Estadio de Vallecas that he was happy with his side's performance.
Rayo Vallecano
Barcelona
Game Details
"It is always difficult when you are facing an opponent like Rayo," Luis Enrique said. "But we overcome that in the best way with attitude, intensity and accuracy, making chances from regaining possession from Rayo. We played very well, and when the team shows this level of intensity and attitude it is very difficult for the opponent."
The results means Barca have now won 10 on the bounce in La Liga, and are a Spanish club record 35 games unbeaten in all competitions, as well as being eight points clear of Atletico Madrid at the top of the Primera Division standings.
Luis Enrique was characteristically not getting carried away with such statistics, with three months of the campaign still to play.
"It all forms part of how the season plays out," he said. "We are getting close to the final third of the campaign, the nicest part, and we have to wait and see what we achieve at the end. We will win what we deserve to win."
Rookie referee Inaki Vicandi Garrido, 30, was very unpopular with Rayo fans and players after showing two straight red cards, as well as missing an apparent offside in the build-up to Messi's first goal, and awarding a second-half penalty which Luis Suarez missed.
"I have nothing to say about the performance of the referee," Luis Enrique said when asked about the Basque official's performance.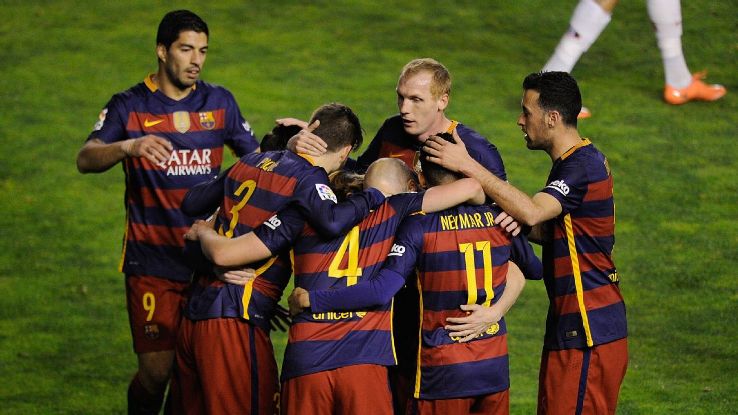 Luis Enrique did sound a little less impressed with Suarez's miss from the spot -- which quite incredibly means that Barca have now missed nine of their 18 spot-kicks in all competitions this season.
"We are not too good in that statistic, but in the end it was just an anecdote from this game," he said. "We must improve in this aspect, but I have already said this is not something that worries me too much."
Rayo coach Paco Jemez was not so sanguine when asked about the Basque official's showing, which also saw him show a red card to Barca substitute Turan, before realising he had reached for the wrong pocket, and then taking out a yellow card instead.
"I did not see any referee out there tonight," repeated Jemez, four times, in response to questioning from local reporters.
Rayo also had two players sent off when playing at Real Madrid in December, losing that game 10-2, with Jemez also losing his temper in the post-game news conference on that occasion.