Neymar's own film series highlights his Barcelona happiness
Neymar has released his own series of films that highlight the importance for the Barcelona superstar of being happy with his club and his life.
The seven short films are together entitled "Two Years in Barcelona" and can be viewed on the player's own personal website. They include interviews with many past and current teammates including Barca club captain Andres Iniesta, with commentary also from Blaugrana club president Josep Maria Bartomeu and the player's father Neymar Senior.
The release comes amid speculation that the Brazilian could be tempted to leave the Camp Nou next summer, with potential suitors including Real Madrid, Manchester City and Manchester United reportedly ready to pay his €190 million release clause and offer a significant salary increase.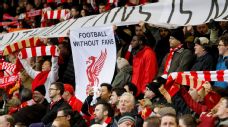 Neymar's two years in the Catalan capital have seen him play a key part in their 2014-15 Treble-winning success, but also legal problems continue over this controversial transfer from Santos in summer 2013.
Such issues are not mentioned in the films, however. Neymar Sr. does talk about the importance of having a structure around his son, which keeps him happy and performing at his best level.
"For a sportsman like Neymar to keep his level he must remain motivated," he said. "He must be happy with what he is doing. That is our job, to make sure he is always happy, giving him a structure that allows him to only think about football. Our management is that -- keep him relaxed, close to his family, his friends and the people who love him."
Barca defender Gerard Pique also spoke about how he and Neymar were kindred spirits who had bonded on and off the pitch.
"I only have good things to say about Neymar," Pique said. "He is a happy person, very happy. He has a point of view very similar to mine, in how he sees life, enjoys it, wants to be with his friends and enjoy a city like Barcelona. I've been able to share moments with him, not just in the dressing room, but in our personal lives, and we have a very good relationship. We have similar hobbies, we like poker, we like to pass time together. I believe this helps the dressing-room, and to have good results on the pitch."
Iniesta talks about how Neymar, now 24, had settled in quickly at Barca and now played a big role in generating a positive atmosphere among the squad.
"Ney has his own way of doing things," he said. "Everybody is different, obviously. When you arrive somewhere, and it is all new for you, the culture, the way of life, but in the end you must show who you are. We are delighted he is here, that he puts on music, or dances, or whatever is needed. In the end the important thing is we have a group of very good players and human beings. He has contributed to the good atmosphere and everything going well."
Fellow superstar forward Luis Suarez spoke about how he and Neymar laugh so much together.
"[Neymar] is a very happy person, he laughs at everything," Suarez said. "Sometimes we speak about him not understanding Spanish, and he laughs. We ask him, and he laughs anyway, as he is a funny guy. Then there is his crazy hair -- he doesn't like anyone to touch his hair, gets a bit crazy about that.
"I enjoy being with him, he gets on well with everyone. If he gets kicked at training, he just laughs too. With me he laughs about the burgers we eat -- that I am fat. That's why I get on so well with him."