Dani Alves: Barcelona will be 'crazy' not to offer Neymar new contract
Barcelona right-back Dani Alves says teammate Neymar is "living the dream" at the Camp Nou and the board would be "crazy" not to extend his contract.
Neymar's future is again the focus of much speculation in the English and Spanish media, with reports that Manchester United and Real Madrid are willing to pay his €190 million release clause and offer a huge salary.
These reports come with all involved knowing that the 24 year old's current contract runs until 2018, with his excellent on-pitch performances appearing to merit a pay rise, and legal battles over his 2013 transfer from Santos to Barca ongoing.
Alves said on the Al Primer Toque radio show that he had told his fellow Brazil international that the best thing to do was stay where he was and concentrate on succeeding Lionel Messi as Barca's talisman.
"[Neymar] is living his dream," Alves said. "When he was thinking about leaving, I told him to look at how Brazilians have always done better here [Barca] than at other clubs. Here you must understand football.
"He has two years left on his contract, but if they do not give him a new one, they are crazy. Neymar will succeed Messi, as he is very good. Nobody is capable of doing what he can do."
Alves was also asked what he thought of his former coach Pep Guardiola leaving Bayern Munich in the summer to take over at Manchester City.
"Pep will be whatever he wants to be," Alves said. "He is like Neymar. They have such a capacity to reinvent themselves, dedication to studying this... Obviously he has a gift, the gift of management. It has not gone bad where he has gone, and won't go bad this time.
"He left for Bayern, but I don't believe he liked it so much. He likes to revolutionise everything from the start. There he did not have that possibility, but he will now [at City]. He likes challenges -- everybody else should get ready."
Asked about a reported clash with Cristiano Ronaldo at last month's Ballon d'Or ceremony in Zurich, with the Real Madrid man saying afterwards that he was upset with Alves talking about him in public.
"I did not get angry at Cristiano because they manipulated what I said," Alves said. "What happens is when they ask me, I speak about him, because he is a public personality. Maybe I don't like his attitude, but I respect his life. With my history in football, I don't need to speak about anybody.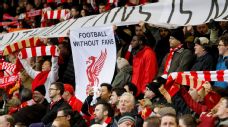 "In Zurich I went to say 'hi' and he was angry, but it's not a big deal. I slept well, did not worry about it at all. He asked me why I spoke about him, and I said I didn't. I told him they asked me and when you are a public personality, these things can happen to you."
Alves also spoke about his own recent rows with some in the Madrid media, which saw the Spanish Sports Press Association condemn some of his comments and Barca issue a statement distancing themselves from their player's views.
"I have had disagreements with journalists, but they annoy me so much, when they don't talk about football," the 32-year-old said. "You cannot show such disrespect. For me it is rubbish, not football.
"Football is something else. They do things to be controversial and sell more. I was wrong to generalise. But those I was referring to are rubbish journalists."