Barcelona star Neymar would never go to Real Madrid - Diego Maradona
Neymar will never leave Barcelona for Real Madrid, Argentina legend Diego Maradona has said.
Maradona, in the United Arab Emirates as part of the promotion for the Dubai Tour cycling race, said he believes Lionel Messi, Luis Suarez and Neymar to be untouchable.
The South American attacking trio have helped the Catalan club to a combined 18 goals in the first month of 2016, and rivals have not found the antidote. Barca lead La Liga by three points, are qualified for the knockout stages of the Champions League and head into Copa del Rey semifinals on Wednesday against Valencia.
But despite Neymar's success, rumours continued to swirl during the January transfer window that the Brazil captain might be headed to Real Madrid. Plagued by tax woes and a court case dating back to his 2013 transfer from Brazil club Santos, Neymar was obligated to testify in a Madrid court on Tuesday along with his father.
Neymar Sr. reportedly told Catalunya Radio on Wednesday that his son had a "huge" offer from another club, but that he preferred to stay with Barcelona.
"No, no and no. Neymar, Suarez and Messi will never go ever to Real Madrid unless there were problems with the club management. The fans are with them and I don't think Neymar is going anywhere," he told Spanish daily Marca.
Maradona, amante del ciclismo, estrella invitada del Dubai Tour #ciclismo #diegomaradona https://t.co/3nPyspwr9N pic.twitter.com/W4BmkN3FxB

- AS Más Deporte (@AS_masdeporte) February 2, 2016
After a remarkable eight wins, one draw, 25 goals scored and only five conceded in the nine games they played in January, Barcelona are showing that they can meet their ambitious target of winning the first ever back-to-back Treble. Maradona, who spent two seasons with Barcelona, credited Messi for having learned how to pace himself.
"He looks very good. He is measuring out his energy because he knows that there are decisive matches coming up. He is measuring out his effort and that shows maturity."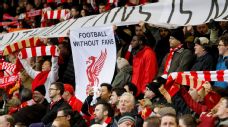 Maradona said Real Madrid don't need Neymar because they have Cristiano Ronaldo, whom he said never has a bad day, despite media reports that the Portugal star is struggling this season.
"I hadn't heard talk about that, but I don't think there is anything particular going on with him," the former Argentina star said. "Cristiano is a great player. He is one of those players that any coach would love to have on his team."
Asked about Napoli, for whom Maradona played for nine seasons after his stint with Barcelona, the 55-year-old credited his compatriot Gonzalo Higuain for their success, but added that the Serie A title would not be easy to win. Napoli were two points ahead of the Bianconeri in the Serie A table as action resumed on Wednesday.
"Things are moving along well. They can win the title because they are playing well, but the problem is Juventus. They never lose," said Maradona, who added that he feared Juve have more experience in these types of situations.
Finally, Maradona praised the work of his compatriot Diego Simeone at Atletico Madrid. They are three points behind Barcelona in the table after their 2-1 loss to the Catalan club last weekend.
"[Simeone] is doing things fantastically well. I enjoyed the match against Barcelona because, even though he was down two men, he still followed his style of play. And that speaks volumes as to why [he] must stay on at Atletico Madrid for a long time or [at least] be the one who decides whether he stays or not," Maradona said. "He has gained stupendous maturity and I congratulate him because he is having a great season.
"I can relate to him when he says: 'We all like for the team to play beautifully, but it is much more beautiful to win. When you are winning, you can play a beautiful game, but if you don't win, your game gets uglier each day.'"