Neymar to appear in court over Barcelona transfer from Santos
MADRID -- Neymar is expected to appear before a judge in Madrid to testify in an investigation into alleged irregularities regarding his transfer to Barcelona.
Neymar's father, who acts as his agent, is also scheduled to testify at the National Court on Tuesday, which AS reports will take place at 5 p.m. local time.
Barcelona's current and former club presidents denied any wrongdoing when questioned by the same judge on Monday.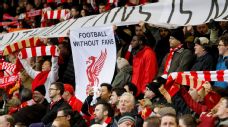 The court is looking into a complaint made by a Brazilian investment group which claims it was financially harmed when Barcelona and Neymar allegedly withheld the real amount of the player's transfer fee from Brazilian club Santos in 2013.
Investment group DIS was entitled to 40 percent of Neymar's transfer from Santos, but claims it received a smaller compensation than it should have because part of the transfer fee was concealed.
Neymar told Globo TV earlier this week that while his father wanted him to just focus on playing his football, this was proving difficult.
"When the issue starts to affect your family, it affects you a bit," the Brazil captain said. "It worries you. However, I am a guy who God has given the power to be focused in what I like to do, which is play football."