Barcelona's Gerard Pique not worried about La Liga probe into his tweets
Barcelona defender Gerard Pique says he has no problems with La Liga authorities investigating controversial tweets he sent making fun of Real Madrid.
La Liga's anti-violence committee are reportedly considering whether to punish Pique, 28, for his regular use of Twitter to joke about problems facing his club's big rivals Madrid.
The Spain international also recently posted a message, including a video apparently showing Espanyol fans abusing both his wife Shakira and son Milan during a recent La Liga Catalan derby against Barca.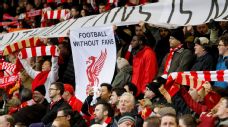 Should the committee find him guilty of misbehaviour, Pique could be fined or given a suspension.
Speaking after being named Catalan sportsman of 2015, the Barcelona-born player said he was happy for the authorities to look at his social media use, while accepting that his own views on the matter were unlikely to be taken into consideration.
"They can study the tweets," Pique said. "They are there to be studied if [the committee] thinks they must study them. It does not matter if I think it's fair or not, they are going to do what they want."
During a recent Copa del Rey game at Cornella El-Prat, Espanyol fans unveiled a banner which insulted Pique's wife, while there were also reportedly abusive chants aimed at the Colombian pop star.
"I have nothing to say about these banners," Pique said. "If I did, I would say it on twitter."
La Liga authorities are also investigating chants aimed at Andres Iniesta during Barca's 2-1 Copa del Rey quarterfinal first-leg win at Athletic Bilbao.
The Spain international is often whistled by Athletic fans who blame him for exaggerating a challenge which saw now-Middlesbrough defender Fernando Amorebieta sent off back in 2010.
An official statement said the chants had come from just one part of the stadium and had ceased when a security staff member approached the group.
"Some 500 local fans in sector 110 of the stadium's Fondo Norte sang together for approximately 15 seconds, 'Iniesta subnormal,' a song which was not taken up by the rest of the fans," the statement read.
"A security staff member went to the area and spoke with the group responsible. The songs immediately stopped and were not repeated."
The statement also pointed out a number of measures which Athletic could take to avoid such chants happening again, including posters inside the stadium to remind fans of the correct behaviour and extra security staff around the pitch.