Barcelona's Neymar never met with Real Madrid, says Neymar Sr
Neymar's father has dismissed reports the Barcelona star has had talks with Real Madrid directors, calling the allegations an "invention" on Thursday.
Onda Cero reported that the Brazil captain and his father reportedly met with representatives from Real while attending the 2015 Ballon d'Or ceremony earlier this month.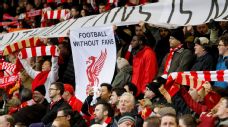 Speaking to Mundo Deportivo on Thursday, Neymar Sr denied that any meetings occurred.
"This meeting with Real Madrid is an invention, it's silly. We were all together in the same hotel, the directors of Barcelona and Real Madrid," Neymar Sr said.
"We greeted them, but there was not any meeting. This is an invention."
Neymar has come into his own over the past year and a half with Barcelona, and was rewarded for his standout performance by being named one of three finalists for the 2015 Ballon d'Or award, which teammate Lionel Messi won for a record fifth time earlier this month.
The former Santos man has previously stated his desire to extend his contract at the Camp Nou, and his father reiterated the Brazilian's stance on Thursday.
"We have a contract with Barcelona ... and Neymar is happy at this club," Neymar Sr added.
"He wants to renew his contract at the end of the season.
"I am Neymar's sole representative and the only one who can negotiate on his behalf."