Lionel Messi trains at Barcelona; likely to travel to Malaga
Barcelona star Lionel Messi returned to training on Thursday but the club won't make a decision about whether he will travel to Malaga until after training on Friday evening, according to Spanish media reports, although he is likely to play the match.
Messi trained on Thursday and was deemed fit, the reports said.
Barcelona said earlier this week that tests on the small hamstring strain the Argentine forward sustained at the weekend show it is only a knock and not an injury requiring long recovery.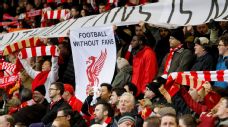 Still, Barcelona coach Luis Enrique substituted Messi "as a precaution" after the half following his scoring of the first goal in Sunday's 6-0 victory against Athletic Bilbao. And Messi also sat out Barcelona's 2-1 Copa del Rey quarterfinal first leg win at Athletic Bilbao on Wednesday.
Aleix Vidal did not train on Thursday after a run-in during Wednesday's match with Xabier Etxeita.