Barcelona wanted Sergio Aguero before Luis Suarez deal - Zubizarreta
Luis Suarez was not Barcelona's "first choice" when they signed the striker in 2014, the club's former sporting director Andoni Zubizarreta has told Marca.
Suarez, 28, joined Barcelona from Liverpool for £65 million after the 2014 World Cup, but the Spanish giants had initially set their sights on Manchester City's Sergio Aguero.
Argentina international Aguero remained at City and Barca moved for Suarez even though he was facing a ban for biting Italy's Giorgio Chiellini during the World Cup in Brazil.
Suarez ultimately served a four-month suspension for the incident and Zubizarreta admitted the club were "concerned about the seriousness of his punishment and how it would hinder his adaptation."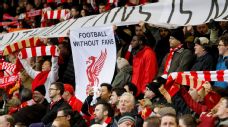 However, the Uruguay international has since proved a fine addition at the Camp Nou, helping the side to five trophies in 2015 and scoring 15 La Liga goals last season.
The former goalkeeper, who had his contract terminated at Barca last year, said: "We had several options. Suarez wasn't the first choice -- he knows as much. In the winter we tried to sign Aguero, but it didn't work out.
"The Chiellini incident [Suarez's bite on the Italy defender] happened while the negotiations were ongoing.
"That business put off many of the clubs who were interested in him; there were question marks over his character and how serious his punishment would be.
"I felt it was the right time to step up our efforts to sign him.
"I liked everything about him: he wasn't static, he could run the channels and he gave us something that we were lacking. There was another key factor: from the beginning he was totally desperate to join Barca."
On Luis Enrique, who was appointed Barca first-team coach in 2014, Zubizarreta added: "It seemed we needed a coach that would re-energise a squad that had suffered serious setbacks, like the death of Tito Vilanova. Luis Enrique was in the advantageous position of having previous experience at the club and with the reserves.
"He's very passionate, passionate about everything, especially football. Here's a guy that freely admits he doesn't have all the solutions, but knows exactly what he wants to do."