Barcelona's Lionel Messi has 'small' strain; Jordi Alba to miss 10 days
Barcelona star Lionel Messi picked up a "small strain" against Athletic Bilbao on Sunday while Jordi Alba has been ruled out for 10 days with a hamstring injury.
Manager Luis Enrique sought to ease concerns about Messi's health by insisting he took the Argentina star off at half-time only as a precaution.
The Barcelona coach withdrew Messi, who scored the first of Barca's six goals against the Basques by netting from the penalty spot, for Arda Turan at the end of the first half with a right hamstring strain, but he hinted that the forward could still feature against Athletic in Wednesday's Copa del Rey quarterfinal first leg in Bilbao.
Barcelona
Athletic Bilbao
Game Details
"Messi will have tests tomorrow, he has a small strain and had a little discomfort so we preferred not to take any risks," Luis Enrique said in a news conference.
"We spoke about it at half-time and with the scoreline as it was we did not want to take risks. I don't like taking risks with any player, so imagine what it's like with Messi."
However, Barcelona confirmed on their official website that Alba, who pulled up in the 69th minute against Athletico, is expected to be sidelined for 10 days.
Neymar and Ivan Rakitic also scored in Sunday's drubbing, while Luis Suarez hit a hat trick in the second half, and Luis Enrique admitted the game had been shaped by referee Antonio Mateu Lahoz's decision to send Bilbao goalkeeper Gorka Iraizoz off in the third minute for tripping Suarez in the area.
He said: "The incident changed the game completely and the tactical plans we had went out the window. It was a comfortable game for us but we still needed to work hard and stay in our positions.
"It was much easier for us obviously but we still had to do our job, we were only 2-0 up at half-time. We had to finish them off after the break and we did that."
And although he admitted Mateu Lahoz had made the right decision, the coach said he does not agree that a player should be automatically sent off for denying a clear goal-scoring chance in the area.
"It's an excessive punishment but those are the rules and the referees have to work within them," he said. "If the rule were to change, all coaches would be delighted."
Athletic coach Ernesto Valverde added: "It's excessively harsh, even though it's the rule. Being reduced to 10 men after three minutes is very difficult. It's a penalty, but it's excessive.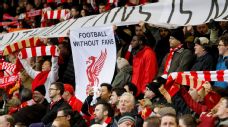 "Before the penalty we had a great chance to score which we didn't take and then we were up against it. Our only option, with a man down and 90 minutes left, was to try and keep the score tight and see if we could get to the end of the game still with a chance."
And the coach does not believe the result will affect his side's preparation for the Copa del Rey tie against Barca.
"We have to pick ourselves up, this is a huge result, but we are also conscious of the circumstances that dictated this game, we don't normally concede as many goals as that," he said.
"We're going to do everything we can to get through the tie. We are inconsistent against Barca and our plan is to pick ourselves up and battle against them in the Copa del Rey. Our aim is to knock them out."
Luis Enrique does not expect an easy ride at San Mames either, with the 4-0 thrashing his side received there in the Spanish Super Cup still fresh in his mind.
"It will be a different competition and will not have anything to do with what we saw here," he said. "They will try and make home advantage count but we will go out to win the game, without thinking about the second leg.
"I never had an easy game at San Mames and if they made things hard for us tonight with 10 men, imagine what it'll be like with 11."