Zinedine Zidane fan Aleix Vidal won't wish Real Madrid boss well
Longtime Zinedine Zidane fan Aleix Vidal has wished his idol no success in his new post as Real Madrid boss, the current Barcelona man has revealed.
Vidal, 26, joined Barcelona from Sevilla last summer, though because of the Catalan club's transfer ban he could not feature in a match for the Blaugrana until this month.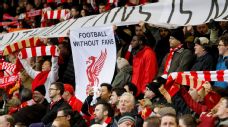 Zidane was appointed Real manager on Jan. 4, after Rafa Benitez was relieved of the position just six months into his tenure. Los Blancos started brightly in the former World Player of the Year's first game in charge, thrashing Deportivo La Coruna 5-0 at the Bernabeu, but Vidal said he hopes the success won't continue.
"They seem to have had a good start, but the titles get handed out at the end of the season," Vidal told RAC on Friday.
"I hope he does not win any. I've always been a big fan of Zidane, but now I cannot wish him any luck."
The right-back made his Barcelona debut as a second-half substitute in the Blaugrana's 4-1 thrashing of Espanyol in their Copa del Rey round of 16 first-leg tie on Jan. 6.
Vidal hailed his experience with the club so far.
"Virtually all the players here are the best in the world," Vidal said. "You can learn a lot from them.
"In training you can see that Leo is the best. When you are face to face with him you know you have few options."