Barcelona's Lionel Messi hails Luis Suarez as world's best striker
Barcelona star Lionel Messi has hailed teammate Luis Suarez as "the best out-and-out forward there is in the game today."
Suarez helped the Blaugrana to an historic Treble last season after moving to the club in the summer of 2014 from Liverpool, and along with Messi and Brazil captain Neymar has formed one of the most formidable front lines in world football.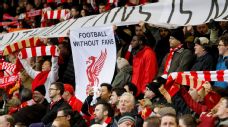 Despite his success at Camp Nou, however, the Uruguayan international was left off FIFA's world XI team. But Messi, who won his fifth FIFA World Player of the Year trophy on Monday, believes there isn't a better striker on the planet at the moment.
"It is difficult to compare him to all the ones [goalscorers] I have played alongside," Messi told FIFA on Wednesday.
"There have been so many. What I can say is that he is the best out-and-out forward there is in the game today.
"He has so much to offer the team and it is a pleasure to play alongside him. We also have a very good relationship off the pitch and I am very happy to be sharing everything with him."
Messi and Neymar have struck up a strong understanding both on and off the pitch, with many crediting the Brazilian's remarkable development to the Argentine's mentorship.
"The fact is that I get on very well with Neymar," said Messi. "He has said nice things about me ever since he arrived at the club. It makes me feel very happy to hear a friend and a colleague talk like that.
"I think [MSN's success] is all down to the chemistry between the three of us, both on and off the pitch and the type of people that we are too.
"We all want the best for the team, for the squad. That is more important than anything else."