Barcelona's Lionel Messi is not the best player in history - Carlos Bilardo
Former Argentina manager Carlos Bilardo has said Lionel Messi is not the best player the game has ever seen, but added that he feels there is a considerable gap between the Barcelona star and his Real Madrid rival Cristiano Ronaldo.
Messi won a record fifth Ballon d'Or trophy on Monday, beating Ronaldo and Barcelona teammate Neymar to the prize.
Barcelona's all-time leading scorer has helped the club to four Champions League titles and was the driving force behind their Treble last season.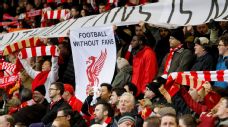 Bilardo, who guided a Diego Maradona-led Argentina to World Cup glory in 1986, said that while Messi is the best in the world at the moment, he has yet to earn the title of the best all time.
"We are talking about one of the best. But I mean one of the best now rather than in the history of the game," Bilardo told ESPN on Wednesday.
Messi -- who also won the Ballon d'Or in 2009, 2010, 2011 and 2012 -- received 41.33 percent of votes, the third highest in history, while Ronaldo was second with 27.76 percent, and Neymar won 7.86 percent.
Bilardo said: "Messi really deserved the Ballon d'Or. I think there is a significant gap to the other guy [Cristiano Ronaldo].
"Messi has won a lot and people around the world recognise him. Wherever he goes, people are chanting his name.
"I think he is among the best. You cannot take anything away from him because he has not won the World Cup yet. That is something difficult."