Barcelona boss Luis Enrique not attending Ballon d'Or gala
Luis Enrique said he would not be attending Monday's Ballon d'Or gala despite the Barcelona coach being the clear favourite to win the World Coach of the Year award.
Luis Enrique was speaking after Saturday afternoon's 4-0 stroll past Granada at the Camp Nou, when Lionel Messi underlined his status as the favourite to pick up the top player award at the Ballon d'Or ceremony with a hat trick.
Neymar, who is on the final three-man shortlist along with Messi and Cristiano Ronaldo, rounded off the scoring late on.
However, Luis Enrique -- who won La Liga, the Champions League, Copa del Rey, UEFA Super Cup and FIFA Club World Cup in 2015 -- said he will not be travelling to Zurich for the ceremony.
Barcelona

Granada
Game Details
"No," Luis Enrique told reporters at his postmatch news conference when asked if he planned to travel. "I will not be at the Ballon d'Or."
Bayern Munich boss Pep Guardiola will also miss the ceremony, meaning only Jorge Sampaoli, who led Chile to Copa America success, will be present.
Barca were not at their peak against Granada despite the emphatic scoreline, but the win ensures they will be top of the table at least until Atletico Madrid play at Celta Vigo on Sunday evening.
"It is normal that we have some weaker moments [in the game] but we do not want this to become normal," Luis Enrique said. "At 2-0 the games are not over, and you always have an opponent in front of you. We began the game well. I was happy with all the players."
Summer signings Arda Turan and Aleix Vidal made their La Liga debuts more than six months after joining the Catalan club last summer after the club's FIFA-imposed transfer ban expired.
Turan provided an excellent assist for Messi's early opener and his dummy helped set up the Argentine's third midway through the second half.
"[Arda] will fit in better and better as he gets more time," Luis Enrique said. "His individual talent is useful for us. He is not flying yet, but he has already set up goals and is a player who can give us different things.
"[Vidal] played well. He is lacking match fitness, but he is very fresh and dynamic with and without the ball."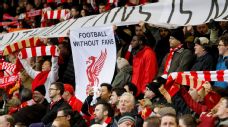 Barca's next game is Wednesday's Copa del Rey second leg at neighbours Espanyol, with the atmosphere still tense in the Catalan capital following an eventful first leg last week.
Luis Enrique said he is open to having a conversation with Espanyol coach Constantin Galca to try to calm things down ahead of the game.
"I would like for people to be only talking about the football, because that is what the fans deserve, but we will see what happens," the former Barca player said. "I met with [ex-Espanyol coach] Sergio last year. I am open to talking with Galca to calm things down, if it's necessary."