Luis Enrique: Barcelona must improve defending as a team for BATE UCL tie
Barcelona coach Luis Enrique has called on his team to improve their defending as a whole ahead of Tuesday's Champions League Group E game at BATE Borisov.
Barca began the 2014-15 season keeping a club-record eight clean sheets in La Liga, but the situation has been different this term.
The Blaugrana defence has been breached in 11 of their 13 games played so far this season, conceding a total of 22 goals -- including nine in their last four outings across all competitions.
Rayo Vallecano scored twice at the Camp Nou in Saturday's La Liga clash and also forced Barca goalkeeper Claudio Bravo into a string of saves, before the Catalan side's attacking strength eventually led to a 5-2 win.
BATE Borisov
Barcelona
Game Details
Barca coach Luis Enrique told a news conference ahead of Tuesday's game at the Borisov Arena that the whole squad, and the coaching staff, knew they had to work hard to improve the situation.
"This is not a problem of the defence, but the whole team," he said. "We have not stopped analysing it, looking for solutions and we are on it. In this last game, which I have already watched back again, Rayo worried us more from their own good play than our mistakes.
"We can concede 10 goals in a game and I would not change just for change's sake. We are aware that we need to improve -- not just the defence, but the whole team, starting with the coach. We are working to find a collective solution."
Attacking brilliance from Neymar, who scored four times and assisted the fifth for fellow forward Luis Suarez, meant Barca did not pay for their problems at the back against Rayo.
But Luis Enrique did not necessarily agree with a question suggesting the Brazil captain had stepped up as the team's leader in the absence of injured talisman Lionel Messi.
"We always try to act as a unit with great individuals," he said. "We have our leader in Leo Messi, and from there each player can bring something. I am not worried that [speculation about a new contract for Neymar] will affect his performances."
One bright spot for Luis Enrique is La Masia graduate Sergi Roberto having come to prominence in the first team, whether in midfield or at right-back.
"Maybe he did not make this step before, for not having too many chances," the coach said. "I know him as a player, he is a marvellous guarantee for the coach. I am very happy he is at this level, and I urge him to keep going like this, or even to improve."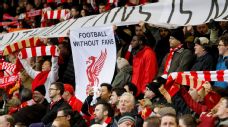 Last season's Champions League winners drew their group opener 1-1 at Roma, and were then 1-0 down for a long time in their second game before coming back late to beat Bayer Leverkusen 2-1 at home on matchday two.
Luis Enrique denied his team were now clear favourites to progress to the last-16 as group winners, saying: "Favourites no. It is one of the tightest groups in the Champions League, we don't expect anything to be easy."
Barca won 4-0 on their last visit to Borisov, but Luis Enrique said he was thinking more about the Belarusian champions having shocked Roma 3-2 in their first home game this season.
"Our game from four years ago at BATE means little now," he added. "The win against Roma means a lot more. We don't expect an easy game."