Atletico Madrid ready to challenge again - Diego Simeone
Diego Simeone says Atletico Madrid struggled after their 2014 La Liga success but feels his new-look side is now "ready to go again."
Atletico became the first side since Valencia in 2003-04 to break Barcelona and Real Madrid's duopoly on the Spanish league title when a side heavily reliant on the goals of Diego Costa topped the table in 2013-14.
Simeone saw Costa, Thibaut Courtois, Filipe Luis and David Villa depart after their 2014 Champions League final defeat to Real Madrid, and Atletico then finished 16 points behind Barca in La Liga in 2014-15 and exited both the Champions League and Copa del Rey at the quarterfinal stage.
Despite selling Arda Turan and Mario Mandzukic this summer and enduring a slow start to the season, Atletico are showing signs of a revival as they approach Friday's game at Deportivo La Coruna on a run of three successive wins in all competitions.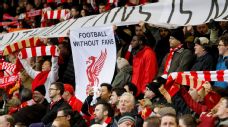 "It was very difficult for us the year after winning the championship, very tough," Simeone told a news conference on Thursday. "It was a hard season but we coped well and showed a good level."
"Now we have a new 'litter' of young players who have good qualities, but this doesn't mean anything. We know that each game you start again and at Atletico you are valued by what you are going to do and not what you did.
"We are ready to go again and we have an important responsibility in the league for what we have achieved."
Angel Correa and Yannick Ferreira-Carrasco are among the players making an impact for Atletico, who are currently third in La Liga, two points behind Barca and Real.