Remi Garde prepared to manage Aston Villa in the Championship
Aston Villa manager Remi Garde is willing to stay with the club if they get relegated as long as he is given resources to get them straight back into the Premier League.
Garde, 49, took over from Tim Sherwood in November and has overseen a slow but steady improvement in results.
Despite a 2-0 win over relegation rivals Norwich last Saturday, Villa are rooted to the bottom of the table and are still eight points from safety with only 13 matches left.
Villa failed to make a single signing in the January transfer window and Garde said potential signings were put off by the club's league position, while owner Randy Lerner was also reluctant to spend too heavily.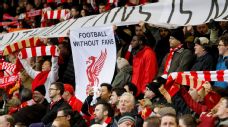 Garde says Lerner is looking to rebuild the club and the former Lyon manager believes he could be the man to help him do it, even if it means starting off in the Championship.
"We'll discuss it at the time when next season is really being prepared for -- at the end of the league or even a little before it," Garde told French radio station RMC.
"I'm ready to stay at the club if there are the means to go up again. Aston Villa is a very big club -- very prestigious in England.
"Unfortunately, when you stick your nose into it, there's a huge amount of work to be done. But it's a project that can interest me if I'm given the resources -- like it was planned at the start."
Villa face a mammoth task to stay up this season but Garde says that he will still have hope until it is no longer possible mathematically.
The club signed 13 players in the summer, many of whom came from France, and Garde insists that the Ligue 1 imports are worthy of playing in the Premier League.
"They're showing it, especially since I've arrived to be honest," he said. "But that's to their credit and not mine.
"The recruitment was well done. The problem, I think, is that there was a little bit of confusion with Tim Sherwood, the previous manager.
"I don't know too much about what happened and I don't want to talk about it too much -- it's not my role. But I'd say that things didn't necessarily gel too quickly.
"When continental players arrive in the Premier League, they have some difficulties adapting because there are sometimes surprising features here.
"For all the former Ligue 1 players, rediscovering a French manager has given them a second wind. They are players who have partly got back to their level and who will make rapid progress."