Arsenal boss Unai Emery says Mesut Ozil needs 'to be available'
Arsenal coach Unai Emery praised his side's performance against BATE Borisov on Thursday but remained coy on the short-term role of star midfielder Mesut Ozil.
The Gunners' 3-0 win -- including goals from Shkodran Mustafi and Sokratis Papastathopoulos -- secured them a spot in Europa League's last 16, erasing a one-goal deficit from last week's loss to the Belorussian squad.
"It's clear after the first match away, that the result was not too good for us and we needed to do today a big effort," Emery said at a post-match news conference. "We worked with a good performance and good focus for 90 minutes. We didn't concede a lot of chances."
The match saw the return of Ozil to the starting XI for the first time since December. The midfielder has been on the outside looking in for Emery this season.
"My message to him is to carry on," Emery said of Ozil's performance. "To be available like today and the last two weeks. Today I am happy, and he was like we want. We're going to play a lot of matches and sometimes we need him to be in the first XI. His combinations with some players were good. For us it was important and positive."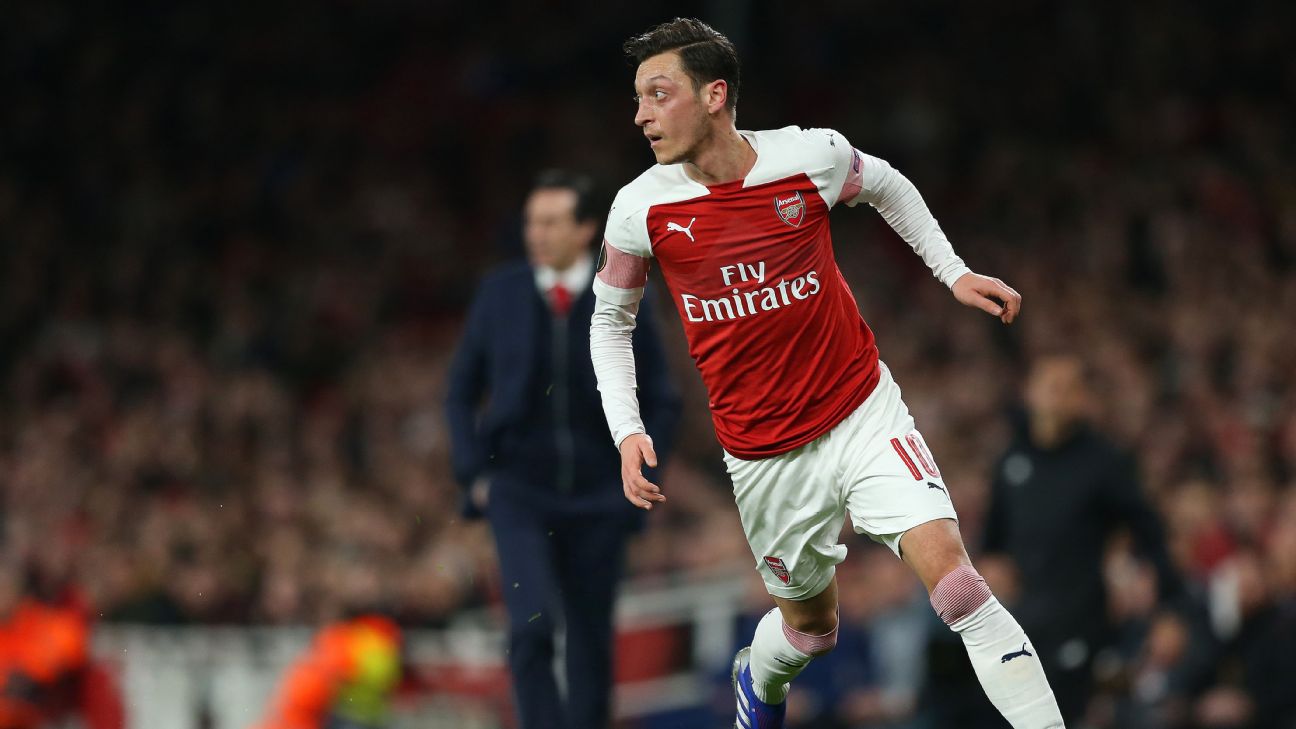 The Spanish boss didn't reveal whether Ozil had earned back a starting role or if the £350,000-a-week man will remain a role player.
"He needs to be available and carry on. He wants to do this and today he showed what he wants," Emery said. "If he is available, like the last two weeks, we are going to play a lot of matches and maybe sometimes we need him in the starting XI and sometimes on the bench because we have a lot of players to also help us.
"His spirit like today is good and his quality and capacity and combination with some players is good, like with [Matteo Guendouzi] and [Henrikh Mkhitaryan] and [Alex Iwobi] in the attacking third. I think we need every player and today playing Mesut was important and positive."
Emery added that Laurent Koscielny's substitution was out of precaution, and didn't believe it to be related the Achilles injury that had sidelined the Frenchman for four months.
"I think it's precaution and we are going to wait for tomorrow," Emery said. "But, I hope he will be okay for Sunday and for the next week. It's muscular, it's not a break. But it was only precaution because he was starting to feel not good."