Arsene Wenger deserves more respect from Arsenal fans - Patrick Vieira
Arsenal legend Patrick Vieira says fans have gone too far in turning against Arsene Wenger, saying the beleaguered manager deserves more respect.
Wenger is facing increasing pressure after Arsenal were knocked out of the FA Cup by Watford on Sunday after falling behind in the Premier League title race. Even after the 4-0 win over Hull in their FA Cup replay last Tuesday, some away supporters held up a banner saying it's time for Wenger to leave after 20 seasons in charge.

Arsenal

Watford
Game Details
Vieira, who captained Arsenal's "Invincibles" side in 2004 and now coaches New York City FC in Major League Soccer, joined other former players like Ian Wright in condemning the banner.
"I was surprised and I was a bit disappointed at the same time [by the banner]," the Frenchman told TalkSport.
"Fans can be frustrated, but fans sometimes forget what Arsene has brought to this football club and I think he deserves a bit more respect. Fans can boo and show their anger, but the way they did it with that banner showed too much lack of respect. But this is the way it is, this is football but it shouldn't be like that."
The Gunners next travel to Barcelona trying to overturn a 2-0 deficit in the Champions League on Wednesday, but one major fan organisation said even a win there would just be "papering over the cracks" when it comes to the club's current issues.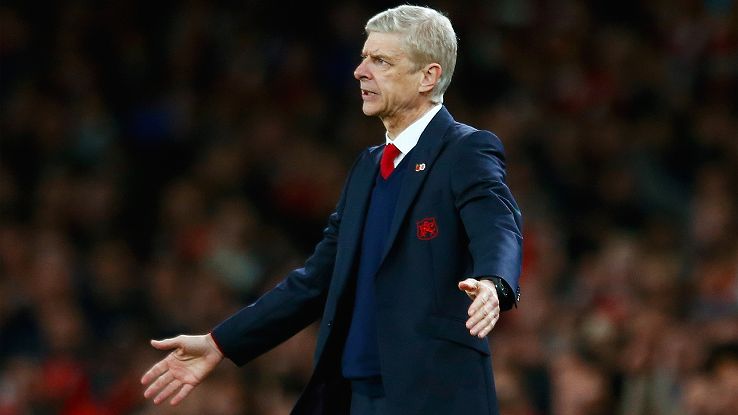 Still, few expect Wenger to leave before the end of a contract which ends after next season, and Vieira said he has earned the right to go out on his own terms.
"Arsene will know when it is time for him to go. He knows what he is doing," the former France midfielder said. "He loves the game, he works really hard, he's a work addict.
"He watches every single game, every single league and has a clear vision of what he wants to achieve. People like it or don't like it.
"He has done a fantastic, unbelievable job for Arsenal Football Club and fans, with that message after the Hull game, went a little bit too far."
Mattias is ESPN FC's Arsenal correspondent. Follow him on Twitter: @MattiasKaren.