Arsene Wenger: Arsenal's FA Cup fifth-round replay against Hull 'not ideal'
Arsene Wenger admitted a replay is "not ideal" after watching his Arsenal side draw 0-0 with Hull in the FA Cup fifth round on Saturday.
Arsenal dominated proceedings at the Emirates Stadium but were unable to break the deadlock, with Hull goalkeeper Eldin Jakupovic making 11 saves to keep the home side at bay.
The two clubs will now meet again in a replay -- which has yet to be arranged -- but with Arsenal still in both the Premier League title race and Champions League, Wenger concedes his team could have done without the extra game.
"If we have no injuries I think we can cope with it [the replay], but it's not ideal, of course," he told BT Sport.
"I'm not especially [happy], no. [The replay] is not what we wanted. But Hull defended very well. We had a lot of the ball, but we were probably not incisive enough or accurate enough in our passing in the final third.
"As long as we didn't score they maintained the way they played. And in the end we had 20 shots, 70 percent possession and no goal, so we can only look at ourselves."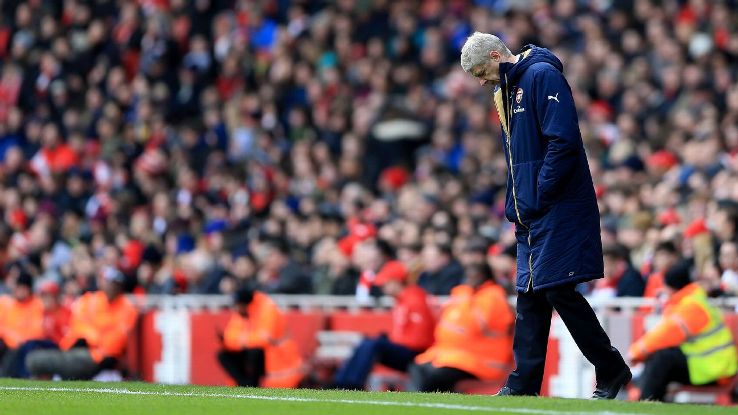 Wenger did, however, reject the notion that a replay was a "nightmare" for Arsenal at this point of the season.
"The nightmare would have been to go out. The frustration is not to score," Wenger said in a news conference. "It's not what we wanted, a replay, but between that and going out we choose a replay."
While Wenger would rather not have to play the replay, he said he is not against them in general, amid talk that the Football Association may look to scrap them.
"I think replays are a particularity of the English rules and overall you have to respect that," he said.
While Hull boss Steve Bruce was elated to see his second-string side hold Arsenal scoreless, he was also less than excited about facing a replay in an already crowded fixture schedule.
"We'll end up probably having to play four games in seven or eight days. When you're going for a championship, it's not ideal," Bruce said. "It's ridiculous the amount of games we have coming up."