Arsenal's Laurent Koscielny happy with 'best season,' wants to improve
Arsenal's Laurent Koscielny says he is playing the best football of his career and is grateful that he is being recognised by his peers as one of the top defenders in the Premier League.
Koscielny, 30, was relatively unknown in England when he arrived from Lorient for £10 million in July 2010 after playing just one season in France's top flight.
He has made steady progress, however, becoming a first-choice centre-back for France and helping Arsenal win the FA Cup in each of the past two seasons.
The Gunners have conceded only 22 goals in 25 league games this campaign but Koscielny feels there is still room for improvement.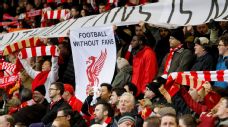 "I think I'm experiencing my best season at Arsenal," he told France Football. "But I hope that it's not finished. I've reached a type of fullness at 30 years old. I feel I give more serenity on the pitch. I manage situations better.
"I've moved up a level compared to my first five years at Arsenal. Every year, I've moved up a notch."
Koscielny famously took a gamble by dropping down from Ligue 2 to the French third division before joining Ligue 1 side Lorient.
He says having to work so hard to get to the top level has made him mentally stronger. It also means he appreciates it even more when he hears that the likes of Rio Ferdinand and John Terry rate him as the best central defender in the Premier League.
"It touches me," he said. "They know all the work put in to get here, the difficulty of this position and of the league. But I don't want to stop there. I want to be even better."
Having been rewarded with a new contract in May 2014, Koscielny is a rare Arsenal player to have been offered a long-term deal that takes him well into his 30s.
He revealed last month that he had already turned down interest from elsewhere and told France Football that he sees no reason to change.
"I interpreted this contract extension as a further sign of confidence," Koscielny said.
"If I go to the end of it, that will be nearly 10 years at Arsenal. I'm really happy at this club where there's everything -- in London too.
"I've extended my contract three times with the Gunners. So you have to think that the two parties are happy to work together."
After rising through the ranks the hard way after spells at Guingamp and Tours, Koscielny is also pleased with what he has achieved so far.
"I'm very satisfied with my career," he said. "I'm playing regularly with Arsenal, we're in the top four in the league, still in the Champions League and with a very exciting end to the season to play.
"I've played nearly 230 matches with the Gunners, which represents a nice little experience. I've also just won two cups with my club in 2014 and 2015. I'm happy with what I've done until now. I don't envy anyone."