Arsenal's Jack Wilshere: It's been hard to stay positive following injury
Arsenal midfielder Jack Wilshere acknowledged it has been tough to keep his spirits up during his latest lengthy injury layoff, but said he can see "the light at the end of the tunnel" as he gets closer to a return.
Wilshere, 24, has yet to play this season because of a hairline fracture in his left leg, but has started running again and could be back on the pitch in March.
The England international has struggled with injuries for much of his career, missing the entire 2011-12 campaign with an ankle problem, while he was ruled out for three months last season.
"Sometimes it's been difficult to stay positive, especially after the injuries that I've had which have been frustrating," Wilshere told Arsenal's official website. "But as the injury goes, you get closer to full fitness and you see the light at the end of the tunnel, then you start to think about coming back and getting involved in the team."
Wilshere's latest injury came shortly before the season started, and curtailed the expectations that had grown after an impressive finish to the previous campaign.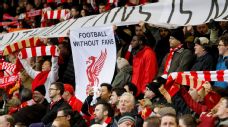 He scored two goals for England in their 3-2 win over Slovenia in a Euro 2016 qualifier in June, but now faces a race against time to be fit for Roy Hodgson's squad for this summer's tournament.
The midfielder is still hoping to take part in Arsenal's Premier League title push, and has been impressed by the team's growing maturity this season.
He said the addition of Petr Cech and the experience of England teammates like Theo Walcott and Alex Oxlade-Chamberlain means the Gunners are ready to compete for the title.
"We've had a strong season and we're in a position this year where we can really go for it," he said. "In the past we've struggled around Christmas and before we've given ourselves no chance really, but this year we're [close to the top] with important players coming back. Hopefully they can help us.
"We've added a world-class goalkeeper and he's been massive for us with his experience. Apart from that, the team's the same and I think a big part of [us challenging] is because we've been together for a few years and the younger British players have started to mature a bit and that's really helped."
Mattias is ESPN FC's Arsenal correspondent. Follow him on Twitter: @MattiasKaren.