Arsenal must bounce back after draw - Aaron Ramsey and Olivier Giroud
Aaron Ramsey and Olivier Giroud said Arsenal must go on a run in the Premier League to make up the ground they have lost to their title rivals in the last few games.
Arsenal were held to a frustrating 0-0 draw by Southampton on Tuesday to drop to fourth place in the standings as their main rivals all won.
The Gunners are now five points behind leader Leicester, but host Claudio Ranieri's side at the Emirates on Feb. 14, after travelling to Bournemouth on Sunday.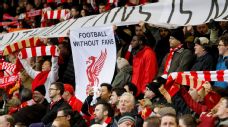 "We're going to have to bounce back and go on a bit of a run," Ramsey said. "It's obviously disappointing to draw the game. We want to win our home games and we felt like we needed to bounce back from having lost against Chelsea. It wasn't to be today. We're obviously gutted but there's still a long way to go."
Arsenal manager Arsene Wenger lamented what he called "very bad" finishing against Southampton, whose goalkeeper Fraser Forster made a string of saves to keep the hosts at bay.
Having topped the table in early January, Arsenal now have just three points from their last four games and have gone three straight league matches without a goal. They are two points behind Manchester City, and trail North London rivals Tottenham on goal difference.
Giroud, who missed a couple of good chances against Southampton, said Arsenal could have scored four or five goals on the night, but that the forwards must "keep the faith" in their scoring abilities.

Arsenal
Southampton
Game Details
"We need to question ourselves and bounce back Sunday against Bournemouth, and after we will have a big game against Leicester. But we need to win first against Bournemouth to get in a better position," Giroud said.
"It's not over, we need to stay positive and be more efficient for the next games to come. It's a long way to go and we just need some momentum, and hopefully we're going to start it against Bournemouth.
"It's really 'money time' like we say, and we'll see how it's going to be. But we need to keep our heads up and keep working on what we're doing well. And hopefully we are going to have better nights to come."
Mattias is ESPN FC's Arsenal correspondent. Follow him on Twitter: @MattiasKaren.