Arsene Wenger: Arsenal's finishing was 'very bad' against Southampton
Arsene Wenger criticised his team's finishing as "very bad" after being frustrated by Fraser Forster and Southampton in Tuesday's 0-0 draw in the Premier League.
Forster produced a brilliant display to almost single-handedly keep Arsenal at bay, making saves from Mesut Ozil, Olivier Giroud, Alexis Sanchez and Theo Walcott as the Gunners lost ground to their title rivals.
"We created 10 goal chances and in the end we came out without a goal," Wenger said. "That is what I think is the most disappointing. Some players missed some chances that usually they take.
"Our finishing is very bad at the moment. We've played now three games without scoring a goal, and in those three games we had chances that we don't take."

Arsenal
Southampton
Game Details
Arsenal fell five points behind leader Leicester and even dropped behind Tottenham into fourth place on goal difference. Wenger's team have just two points from their last four league games, including a 0-0 draw at Stoke and a 1-0 loss to Chelsea in the previous two.
While Forster had one of the best goalkeeping performances of the season, Wenger said his players had themselves to blame for not getting the ball in the net.
"He had a good game, a brilliant game. But you expect that," Wenger said of Forster. "The quality of the chances we created today, considering it was a Premier League game, was high. The quality of the finishing was poor. That differential explains the 0-0."
Southampton manager Ronald Koeman chose to give the credit to his goalkeeper, saying Arsenal created more chances on Tuesday than any team have in his spell at the club.
"Then you need a goalkeeper that is magic, and he was magical tonight," Koeman said.
Arsenal's dip in form comes as Wenger once again opted not to go after striker in the transfer window, to the frustration of some fans. But he defended his decision to only bring in Egypt midfielder Mohamed Elneny -- who wasn't in the squad against Southampton -- saying no top-level forwards were available.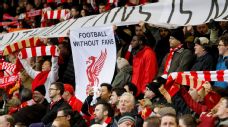 "If you knew a world-class striker who could strengthen our team you should have told me before the transfer deadline was over," Wenger quipped.
"They do not walk in the street and say, 'Please here is a world class striker, can you take me.' They are all at big clubs and under contract. There was none available. ...
"It's better we think about how we can score goals with the players we have. We can score goals. We have shown that before."
And while some angry fans are already lining up to write off Arsenal's title chances, Wenger cautioned against over reacting.
"Let's not be overly pessimistic. We are qualified in the FA Cup, we are in the Champions League, we have a big opportunity at the end of the month [against Barcelona], we are still in the fight in the Premier League," he said.
"So let's be a bit realistic even if we are a bit down tonight. I believe top quality people respond when they are in trouble."