Hector Bellerin: Arsenal have quality to bounce back from defeat
Hector Bellerin believes Arsenal's ability to bounce back from tough losses can be a key factor in this year's Premier League title race.
The Gunners take on Southampton at the Emirates Stadium on Tuesday looking to regroup after a 1-0 defeat to Chelsea last time out in the league, while also aiming to avenge a 4-0 setback at St Mary's on Boxing Day.
Arsene Wenger's team have already shown an ability to shrug off losses with a convincing display in the next game -- picking up back-to-back league wins after the Saints defeat -- and Bellerin hopes Tuesday's game will prove to be another example of that.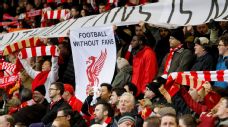 "That's something our team does really well -- every time there's a defeat or a result that we didn't want to have, the team always responds straight away in the next game," the right-back told the Daily Mirror. "That shows the team's character and is really important. It's normal for big teams to lose games, especially in the Premier League, when you have such quality in every single team."
Arsenal have had to bounce back a little more often than they would have liked to this season.
They began the campaign with a 2-0 home loss to West Ham, opened the Champions League group stage with two disappointing defeats against Dinamo Zagreb and Olympiakos, and have also lost away to Chelsea and West Bromwich Albion in the Premier League.
Perhaps the best example of a quick turnaround was the 3-0 win over Manchester United at home, a few days after a humbling 3-2 loss to Olympiakos.
"I think that game proved the point," Bellerin said. "After not getting a good result in the Champions League, playing at home in a big game against Manchester United, in front of a big crowd, to produce one of the best 20 or 30 minute spells that any team has had this year.
"When the team is in sync, there's no better team than us in the Premier League. I think we just need to find that balance in some games when sometimes it's lacking. Sometimes it's hard with injuries, people coming back, people on the bench."
Arsenal followed up that win over United by beating Bayern Munich 2-0 at home -- the first step towards turning their Champions League campaign around and qualifying for the knockout stages.
Bellerin said the victory against the German champions showed this Arsenal side can compete against anyone.
"Yes, definitely," he said. "Those games against Bayern and things like that stay in your head and you can say, 'If we can do it against them, why can't we do it against every team?'
"For us, we played brilliantly and beat and stopped the top team in the whole world. If we can show that we can stop them, beat them, there's nothing else left to answer or to do. The only thing you need to do is recreate it each week."
The Southampton loss came straight after a 2-1 win over Manchester City, and Wenger has acknowledged that the team did not have the right mentality for that game.
"That game, we didn't perform the way we should," Bellerin added. "They performed really well, credit to them. It's not all about blaming us, it was a rare game and we know on Tuesday it will be another hard game as well."