Jack Wilshere at least six weeks from Arsenal return, says Arsene Wenger
Injured Arsenal midfielder Jack Wilshere needs approximately another six weeks to regain match fitness, Arsene Wenger has revealed, meaning he won't be back on the pitch until at least the middle of March.
Wilshere hasn't played a minute this season after sustaining a leg fracture in August, but has recently started running again, Wenger said on Friday. However, he added that the England midfielder is still more than a month away from being able to play.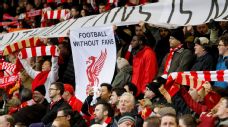 "Once you move outside, from the first day, you count six weeks to be competitive," Wenger said. "To build up the stamina, the intensity. You count six weeks to be ready fitness wise."
That means Wilshere would have just two months to earn a spot in Roy Hodgon's England squad for the European Championship this summer.
Wilshere and Santi Cazorla are the only two Arsenal players still sidelined by injury, with the likes of Danny Welbeck and Tomas Rosicky having returned to training recently after also missing the first half of the season.
Cazorla sustained a knee injury in November and is expected back toward the end of March, Wenger added.
Mattias is ESPN FC's Arsenal correspondent. Follow him on Twitter: @MattiasKaren.