Arsenal's Mohamed Elneny 'not a monster,' will fit team well - Wenger
Arsene Wenger says Mohamed Elneny is "not a powerhouse" but will rely on his agility and stamina rather than pure strength in his role as a ball-winner for Arsenal.
Elneny is set to make his Arsenal debut against Burnley in the FA Cup on Saturday, in what Wenger promised would otherwise be an experienced lineup against the Championship side.

Arsenal

Burnley
Game Details
Elneny was brought in from Swiss club Basel this month to provide cover for injured holding midfielder Francis Coquelin, who is now back fit and also available for selection on Saturday. But unlike many defensive midfielders, Elneny doesn't rely on size and strength to do his job, Wenger said.
"He's not a monster," Wenger said of the Egyptian. "So he's not a powerhouse, he's more a mobility player. That's why I think he can suit our game."
Wenger's teams have often been criticised for not being physical enough, but the Frenchman insisted that even the defensive players can rely on technique rather than strength to be effective.
"Winning the ball is not only down to power. It's to switch on at the right moment, it's a technique," Wenger said. "You have players who are muscular and they lost fights against small players who are very slim because the small players they switch it on at the right moment. When do you switch your muscle on? It's when the guy is in a weak position. It's a real technique."
Elneny has been on the Arsenal bench against Stoke and Chelsea in the team's past two Premier League games, getting his first look at the physical English game.
"I think he was surprised by the intensity of the game, and by the challenges," Wenger said. "At the start the [foreign] players are surprised by the fact that the referee lets it go. In England you will often hear the referee say 'Get on with it, get on with it.' In the other countries you get a whistle."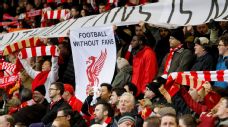 Arsenal are the two-time defending FA Cup champions, but Wenger has promised not to take Burnley lightly at the Emirates Stadium. Aside from Elneny, he said he would play a "Premier League team" rather than rotating heavily and letting some of the club's youngsters get a start.
After getting just two points from the team's last three league games, including a 1-0 loss to Chelsea last weekend, Wenger said it's important to regain some momentum right away.
"First of all we lost last Sunday, and it's important not to drop our confidence level. And secondly, we want to do well in the FA Cup," Wenger said. "We don't win with kids anymore, unfortunately, even against championship teams."
Mattias is ESPN FC's Arsenal correspondent. Follow him on Twitter: @MattiasKaren.