Arsenal's Francis Coquelin set to return, Danny Welbeck back in training
Francis Coquelin is ready to play against Burnley in the FA Cup on Saturday after completing two weeks of training following a knee injury while also confirming striker Danny Welbeck's long-awaited return to training.
Coquelin, 24, has not played since November, but manager Arsene Wenger said the holding midfielder could be in the squad for the fourth-round tie at the Emirates Stadium.
The Frenchman's return is a massive boost for the team, who have looked vulnerable defensively in his absence and have fallen three points behind Premier League leaders Leicester.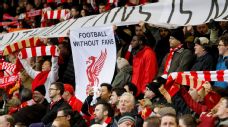 "Francis is available to play now because he has passed two weeks of full training," Wenger told the club's official website.
Tomas Rosicky is also ready to play his first competitive game of the season, having completed 45 minutes with the under-21s last week.
Rosicky has not played since a European Championship qualifier with the Czech Republic in June, but adds another option for Wenger in midfield for the game against the Championship club.
With Welbeck back in training, Arsenal now only have Jack Wilshere and Santi Cazorla on the absentee list. Alexis Sanchez and Mikel Arteta also made their returns to fitness this month after injury layoffs.
"Jack and Santi are progressing well but they are at least a few weeks away," Wenger said. "But these two apart, it is just about competitiveness and match fitness [of the other players]."
Welbeck also has not played all season and underwent knee surgery in September, but Wenger said the England forward has completed one training session this week. He's expected to play a game with the U21s or a training game before being put back in a matchday squad.
"Danny Welbeck is not completely ready but he is not far," he said. "He needs a game or two because he's been out since last April. The Stoke [U21] game is too soon because he only had one session with the team, and that is too short."
The Frenchman acknowledged that his wealth of options -- which also include new signing Mohamed Elneny -- now presents him with some selection problems.
Per Mertesacker will miss the Burnley game after being sent off in the 1-0 loss to Chelsea on Sunday, and the returning players mean Wenger may afford to rest some regular starters.
"It is just a question of selection and decision-making, that is the key," Wenger said.
Mattias is ESPN FC's Arsenal correspondent. Follow him on Twitter: @MattiasKaren.