Arsenal's Alex Iwobi: Uncle Jay-Jay Okocha is 'motivation' for success
Arsenal teenager Alex Iwobi says he is motivated by trying to become better than his uncle Jay-Jay Okocha, but doesn't feel any extra pressure coming from a footballing family.
Iwobi, 19, was given his second career start for Arsenal in the FA Cup win over Sunderland this month, and is likely to feature again on Saturday when the Gunners play Burnley in the fourth round.
The Nigeria international is seen as one of the most promising talents in the Arsenal academy, which he joined as an eight-year-old, and signed a long-term deal last October.
While he was initially best known for being the nephew of former Paris Saint-Germain and Bolton midfielder Okocha, Iwobi is quickly making a name of his own at the Emirates -- and he says having a professional footballer in the family has helped him develop throughout his career.
My Nephew Alex Iwobi marked his Emirate's debut with a goal.. Great stuff Alex.. Wenger is really doing a great job with the young star..

- Jay-Jay Okocha (@IAmOkocha) July 25, 2015
"I see it as help, I see it as guidance for my football, what I need to work on and what I need advice on so it has helped me over the years," Iwobi told the club's official website.
"I don't see it as pressure, I just see it as someone I look up to as motivation as I try to be better than him. I grew up in a footballing environment.
"My dad, my uncle and my whole family loves football. I played with a local team with [fellow academy member] Chuba Akpom so I grew up with a footballing life."
Akpom impressed with Arsenal's under-21s last season and was included in the preseason tour to Singapore last summer.
While many other prominent U21 players were sent out on loan this season, Arsene Wenger told Iwobi he wanted him to stay in North London.
"After Singapore I thought I may go on loan because I need to play men's football, and get experience. But when the boss said I shouldn't go on loan I thought, 'OK maybe I have a chance,'" Iwobi said. "And I had a few chances like against Swansea where I came on and against Bayern Munich.
"I got to play 90 minutes against Sheffield Wednesday [in the Capital One Cup]. I got a few chances and now I'm just hoping to get some more.
"I don't know what to expect nowadays but playing at the Allianz Arena was the best thing ever. Playing with the world's best players was just crazy."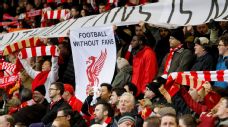 Iwobi can play both as a winger and in central midfield, where he started against Sunderland and impressed in a 3-1 victory.
That kind of versatility is valued highly by Wenger, and Iwobi said he's doing his best to impress the Frenchman even more in training.
"You need to train well every day and you have to be in the boss' eye and his mind all the time so that is what I'm trying to do all the time," Iwobi added.