Theo Walcott: Arsenal's 'stars of the future' want Premier League title
Theo Walcott says Premier League title contenders Arsenal now have the kind of team he's "always waited to be part of" during his decade-long Gunners career.
Walcott celebrated his 10-year anniversary with the club this week after signing from Southampton as a 16-year-old in 2006.
In an interview with Sky Sports ahead of Sunday's clash against Chelsea, Walcott said the Gunners -- going into the game three points behind table toppers Leicester -- finally have a squad that can challenge for major trophies.

Arsenal

Chelsea
Game Details
"I've played with some great talent at Arsenal and now, this is the squad that I think I've always waited to be part of," Walcott said.
"The players that have come and gone have been fantastic and they've gone on to do some great things. But the players that are here at the moment are definitely our stars of the future, without a doubt."
When Walcott joined Arsenal, most of the stars of the "Invincibles" side of 2004 were still at the club, and the forward remembers feeling "terrified" when he walked in the dressing room and saw the likes of Thierry Henry, Robert Pires, Dennis Bergkamp and Freddie Ljungberg.
Now he's the longest-serving player at the club and has seen new world-class additions like Mesut Ozil, Alexis Sanchez and Petr Cech join the team over the last couple of years.
Walcott said that the new signings along with a stronger winning mentality after ending Arsenal's nine-year title drought with two straight FA Cup trophies means the team is now ready to win a first Premier League title since 2004.
The team would go back atop the standings with a win against Chelsea, and Walcott said: "The Premier League, that's the biggest goal. And this year is a massive opportunity for us. And the years to come, I do truly believe that.
"I think those two FA Cups were a big stepping stone in this team's path to success. The players that have come in have made that level even higher now, and I think it's expected of us to do really well this season. The belief is there. I think belief is so important in this squad and it's the most it's been."
Walcott missed the 2014 FA Cup final after needing season-ending knee surgery that January, one of many injuries that have curtailed his career.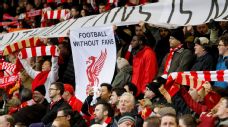 But he scored in the 2015 final, a 4-0 win over Aston Villa, and was able to secure his first trophy with the club as a player on the field.
If there is one regret the forward has from the last decade, it's that he had to wait so long for that moment.
"Everyone wants to win trophies at every club. A big club like Arsenal should be winning loads more than we have," the England striker added. "But we've just got to look at the present now. We've got two FA Cup trophies under our belt now in the last couple of years.
"And we want the big one. It's always important to win trophies, and we're only going to be judged on that when it comes to the success of this club. But like I said before, I think this dressing room is ready for it."