Arsenal striker Olivier Giroud: I won't lose any sleep over criticism
Olivier Giroud says he is not worried about the "haters" who think he is not good enough to be Arsenal's main striker and is targeting his first 20-goal Premier League campaign.
After seeing Theo Walcott start the season as Arsene Wenger's preferred striker, Giroud is now the clear first choice and has scored 12 Premier League goals to help Arsenal move top of the table.
Giroud has also performed well in big matches this season, scoring against the likes of Bayern Munich, Manchester City and Liverpool and netting a hat trick in a must-win Champions League match against Olympiakos to send the Gunners through to the next round.
The France striker's credentials have been questioned in the past, but he said he has not let the criticism affect him.

Arsenal

Chelsea
Game Details
"I don't question myself about that," he said in the Daily Mirror. "I try so hard to give my best for the team.
"I want to give everything to always improve myself -- that's what I've been doing this year and hopefully I will reach my targets, my number of goals, to help this team to win the title.
"That's the main thing for me. After that, you will always have haters and people who don't like you, but that doesn't matter to me. I'm not going to lose any sleep over it or anything like that."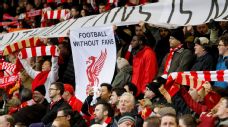 The Frenchman has never scored more than 16 goals in a Premier League season but is hoping to improve on that this time.
"I would like to reach 20 goals in the Premier League," he said. "That would be nice and if I can help the team to reach our aims then I would be pleased with that. For me, it would be nice if I could reach between 25 and 30 in all the competitions."
Mattias is ESPN FC's Arsenal correspondent. Follow him on Twitter: @MattiasKaren.