Arsenal's Arsene Wenger: Social media may be emboldening fans
Arsene Wenger thinks social media is helping fuel disgruntlement and aggressive behaviour among fan groups, calling it a growing problem across Europe.
Arsenal return to Stoke on Sunday for the first time since they were booed by a group of their own fans at the train station following a 3-2 loss in the Premier League last season.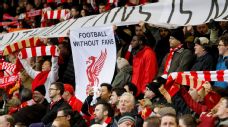 That was one of the low points of the campaign for Wenger's team, who imploded defensively in the first half at the Britannia Stadium to fall even further behind in the title race. The Frenchman was the subject of most of the fans' wrath as the team boarded their train home, with some shouting for him to "get out" of the club.
While the mood among Arsenal fans is much better a year later with the team sitting top of the Premier League, Wenger said he is concerned about a growing trend of fans turning against their own clubs.
"It might be one of the problems that football has to face in the coming years. You see it in many countries now, more and more," Wenger said. "Maybe with the social networks, everybody is allowed opinions and can strengthen that opinion with other people who have the same opinion.
"Before your opinion was a bit more isolated. Today straight away it becomes a stream of people who think the same way and they become a force. Maybe that's the reason, I don't know."
Wenger said he sees that trend especially in his native France, where Paris Saint-Germain are runaway league leaders and other traditional clubs are only fighting for second place.
"That is not easy to experience. Here [in England] we complain because anyone can win the league, but it's much more interesting, because fans keep hope as well," Wenger said. "In clubs like Lyon and Marseille who are used to fighting for the championship, it's difficult to experience that suddenly that there's no hope."
Arsenal won't change their travel habits this weekend and plan on taking the train to Stoke again, even though they may cross paths with supporters again at the station. Wenger said he could understand the fans' frustrations at the time, and that he didn't take the jeers personally.
"I was sad and upset more by the result than the individual reactions of people, who I can understand," Wenger said. "When you love the club you want the results to be positive. You want as well not to be isolated too much. You want contact with people who love the club."
The trip to Britannia Stadium will offer another tough test for Arsenal, though, although Wenger said his team is better equipped to deal with the challenge of facing Stoke away this time. Last year he had an inexperienced defence with Calum Chambers, Hector Bellerin and third-string goalkeeper Emiliano Martinez playing in the fixture. This time, it's the likes of Petr Cech, Laurent Koscielny and Nacho Monreal, while Bellerin has developed into one of the top right-backs in the league.
"We feel stronger and more stable. It's always a test for us, Stoke," Wenger said. "It's as well a mental test. Let's show that we have moved forward and that we can deal with what Stoke offers us.
"I feel that we have moved forward in 2015, because we have stabilised the results and the consistency. The biggest hurdle was to win the big games. And that makes you feel stronger as fighting for the Premiership. Because we have beaten City, beaten United, so we can also do it anywhere else."