Arsenal's Alexis Sanchez injury return won't be rushed by Arsene Wenger
LONDON -- Arsene Wenger is taking a cautious approach with Alexis Sanchez as the Chile forward nears a comeback from injury and will not rush him back for Wednesday's Premier League game at Liverpool.
While Wenger said Sanchez is "very close" to full fitness, he does not expect the player to be in the squad at Anfield on Wednesday.
"For Sanchez, I think the Liverpool game will come too soon for him. He has a chance to be available against Stoke [on Sunday]," Wenger said at a news conference on Monday.
Sanchez was injured against Norwich in November, and Wenger was criticised for fielding the star forward in that game even though he had complained about a hamstring problem earlier that week.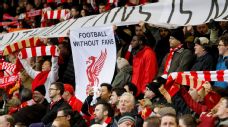 Arsenal have coped well in his absence and are two points clear at the top of the table ahead of the Liverpool game, where a win would be another strong indication that this team is a true contender for a first Premier League title since 2004.
But while Sanchez will be key to that title challenge, Wenger is determined not to risk the health of his star forward -- even if that means resting the Chilean against his will.
"He is always keen to play of course. If you listen to Alexis, he can always play, even when he is injured," Wenger said. "We try to be cautious, with a muscular injury you never know exactly how big the risk is. But what is for sure is, he's very close. If you look at team training, he is very, very close."
One injury boost for Wenger is that Tomas Rosicky is back in full training this week, having not played all season.
With Mikel Arteta having returned for the FA Cup win over Sunderland on Saturday, Rosicky gives Wenger yet another midfield option as he awaits the returns of injured trio Francis Coquelin, Jack Wilshere and Santi Cazorla.
"Overall the situation is getting better," Wenger said.
The Liverpool game will be Wenger's first meeting with Jurgen Klopp since the German took over for the fired Brendan Rodgers, with the German previously having been mentioned as a possible successor for the Frenchman at Arsenal.
The Gunners were held to a 0-0 draw at the Emirates by Rodgers' team earlier this season, and Wenger expects another tough challenge on Wednesday.
"Every time we go to Anfield we face a team who are up for it. It's always a ferocious battle no matter who is the manager," Wenger said. "They had a very strong manager before, they have a very strong one now. Klopp has the personality to do well there."
Liverpool are prone to pressing higher up the pitch under Klopp, and Wenger said the key for Arsenal to counter that is to simply play their normal game with quick passing.
"We are used to that pressing. It's not only Liverpool who do that, everybody in the modern game. I think pressing has been create in England basically because there is a history of teams who have done that very well," Wenger said. "It's part of the modern game as well to make quick decisions, be very short with your first touch, and play your game."
Mattias is ESPN FC's Arsenal correspondent. Follow him on Twitter: @MattiasKaren.