Arsene Wenger hails Hector Bellerin as elite right-back after FA Cup win
Arsene Wenger hailed Hector Bellerin as perhaps the best right-back in the country after the Spanish defender set up two goals in the team's 3-1 win over Sunderland in the FA Cup on Saturday.
Bellerin helped put Arsenal ahead for good at the Emirates when he broke down the right flank and sent in a low cross for Aaron Ramsey to convert in the 72nd minute.
Four minutes later, he created the third goal in similar fashion, this time setting up Olivier Giroud for a simple tap-in.

Arsenal
Sunderland
Game Details
"He became stronger and stronger," Wenger said of Bellerin. "Sometimes I felt in the last 20 minutes, every time he went forward he created a chance on goal."
Asked if there is a better right-back in England at the moment, Wenger responded: "I don't know. Of course [he is among the best]. Look at the defensive and offensive numbers.
"The fact that he is only 20 years old, there is a lot more to come from him."
Wenger also praised 19-year-old midfielder Alex Iwobi, who was given just his second career start but impressed with his willingness to take on defenders and push forward.
He forced a good save from Jordan Pickford after bursting through three defenders and into the area, and was involved in creating Arsenal's first goal for Joel Campbell.
"Alex Iwobi was one of the guys who was very good in the first half, he tired a little bit in the second half," Wenger said.
"I liked the timing of his passes. In the middle of the park that is a vital quality and that fact he plays forward and sees [things].
"As a young boy he is not afraid to come on and that is not easy."
The Gunners sit top of the Premier League and are back in action with a tricky trip to Liverpool on Wednesday but, with a number of players back from injury and some soon to return -- plus the impending signing of midfielder Mohamed Elneny -- Wenger feels his squad are ready to deal with a tough run.
"There is a little bit," he said when asked about fixture congestion. "But I believe that the next step is to get [Tomas] Rosicky back, [Danny] Welbeck back, [Alexis] Sanchez back, [Jack] Wilshere back and maybe we will get one player in.
"Overall, I think we have no new injuries so I'm not worried. If we had the same number of injuries we would be a bit short."
While Wenger is content with the schedule, Sunderland boss Sam Allardyce again hit out over the number of games his side are being forced to play.
Allardyce labelled the Premier League's decision to put in a round of fixtures the midweek after the third round of the cup as "diabolical" earlier in the week and did not back track after seeing his side knocked out.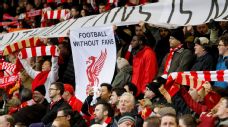 Their game at Swansea was moved to Wednesday night from Tuesday with the Swans facing Oxford on Sunday -- with Sunderland's next league game an early kick-off at Tottenham next Saturday.
"I was infuriated by how the fixtures panned out and by us having to change from Tuesday to Wednesday based on the amount of travel we have to do compared to Tottenham and to Swansea," he said. "I will be very interested in seeing Swansea's team on Sunday and see how many first-team players they actually play.
"We could have played on Tuesday, which gave us the right opportunity to recover to play in the Premier League on Saturday, which is a 12:45 p.m. kick-off against Tottenham having travelled 1,800 miles for three away games. Good headline there.
"I am interested in the welfare of players, which is at great risk at this stage of the season and you have seen it with the amount of injuries that have occurred at this time."
Information from Press Association was used in this report.