Arsenal's 'world class' David Ospina treated unfairly by media - Wenger
Arsenal manager Arsene Wenger has backed "world class" goalkeeper David Ospina to finally silence the critics as he readies to feature in the Gunners' FA Cup tie against Sunderland on Saturday.
Ospina has had to wait a long time to make amends for his mistake against Olympiakos in the Champions League. He finally gets the chance at the weekend, with Wenger hoping the Colombian will prove he is a "world-class goalkeeper" during the team's FA Cup run this season.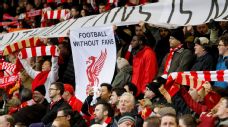 Wenger was heavily criticised for starting Ospina in goal against Olympiakos in September instead of new signing Petr Cech, after the Colombian gifted the visitors a goal by fumbling the ball over the goal line. Arsenal lost 3-2 and Ospina was then sidelined with a shoulder injury, missing the Gunners' loss to Sheffield Wednesday in the League Cup.
With Cech playing a crucial role in helping Arsenal advance to the Champions League knockout stages and go top of the Premier League, Ospina has yet to play again since his return to fitness. But Wenger is sticking to his habit of using his reserve goalkeeper in the FA Cup, and the Arsenal boss has backed Ospina to quiet the naysayers.
"I believe that Ospina is one who is not treated fairly [by the media]," Wenger said. "He had a bad year because he had that mistake against Olympiakos. When you have few opportunities and you have one bad catch, everybody was after him. But if you look at his performances from January 2015 to the end of the season, he saved us in many games."
Ospina supplanted Wojciech Szczesny as Wenger's first-choice goalkeeper midway through last season and helped bring added stability to a shaky defence in the second half of the campaign. But with Arsenal signing Cech from Chelsea in the summer, Ospina has had to get used to the backup role again, while Szczesny was sent out on loan to Roma.
Wenger insisted that the decision to sign Cech had nothing to do with Ospina's performances, saying that the veteran Czech Republic international was just too good to pass up.
"I personally think that [Ospina] is a world-class goalkeeper," Wenger said. "But Petr Cech was just an exceptional opportunity, where it was difficult to say no. But I didn't take Petr Cech because I was not happy with Ospina, I was very happy with Ospina. Unfortunately, Ospina has been punished by that decision. But I personally rate him highly."
While the 27-year-old Colombian has been linked with a move away from the Emirates in the summer because of his lack of playing time, Wenger said he hopes to keep him at the club for the long term.
"I think he can be the goalkeeper of the future here as well," Wenger said. "With Petr Cech getting [older] year after year, he may get more games as well."