Arsene Wenger: Arsenal are taking the FA Cup as seriously as ever
LONDON -- Arsene Wenger has promised that Arsenal will not take the FA Cup lightly this season, insisting the defending champions will field a strong team against Sunderland despite important Premier League games coming up.
While Black Cats boss Sam Allardyce has said he will have to rotate heavily in order to keep his squad fresh for Wednesday's game against Swansea, Wenger is not looking past Saturday's third-round match as the Gunners begin their defence of the trophy.
And despite Arsenal being two points clear atop the Premier League table, and with a game at Liverpool coming up on Wednesday, Wenger dismissed the idea that the FA Cup should have lesser significance for the club this season.
"For us it's a very important competition as always," Wenger told a news conference. "For us it's the next game, and there's only one way to approach our next game, and that is to win it."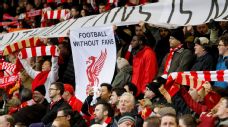 That means his squad will be similar to the one that played Newcastle in the Premier League last weekend, although the starting lineup may look slightly different.
While goalkeeper Petr Cech will be rested for David Ospina, Wenger said he has not decided whether to give playmaker Mesut Ozil a break as well.
With few attacking options available because of injuries, forward Theo Walcott is among the regular first-choice players who is expected to start.
"Ozil, I don't know," Wenger said. "Walcott is not overloaded with games. He has not played too many games since the start of the season."
The FA Cup has always held a special significance for Wenger, who has won the competition a record-equalling six times.
Having used the competition to end the club's nine-year trophy drought in 2014, Arsenal now have the chance of becoming the first team in 130 years to win it three times in a row.
"Everybody dreams of winning the FA Cup," the Frenchman said. "I've won it six times, that means I take it seriously. Nobody has won it more, so that means it's not that easy to win it."
The Arsenal boss is not reading too much into Allardyce's comments either, saying he expects a strong challenge from Sunderland, even if the relegation-threatened team are mainly focused on staying in the Premier League this season.
"I'm long enough in the job to not expect any weakness from Sam Allardyce," Wenger said. "I know him well enough to know the team will be motivated and focused. You cannot say these days that a manager plays a weaker team because they have 25 players in the squad that are of Premier League quality."
Arsenal beat Sunderland 3-1 in the league in December but needed two second-half goals to overcome Allardyce's side after being level at 1-1 until the 63rd minute.
"On the breaks they were very dangerous. It was a very hard-fought win against them," Wenger said.
Mattias is ESPN FC's Arsenal correspondent. Follow him on Twitter: @MattiasKaren.